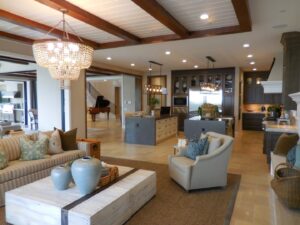 Everyone loves a beautiful hardwood floor. But let's face it, sometimes hardwood floors just aren't comfortable to be walking on all day, especially with bare feet. Sometimes, slippers just don't cut it either. It's especially wise for those with jobs that require a lot of standing or walking to have some kind of carpeting in their home. So it's wise to have some carpeting in your home, either with a rug or installed carpet. Luckily, you can easily install carpeting overtop of sections of your hardwoods, and it can actually preserve their beauty when installed with care. But there is a lot of worry over whether the choice of carpet will look good with the design of the hardwood floors. Here are some tips on how to pair a carpet design and hardwood floors for a more comfortable experience in your home.
Choose High Contrast Carpet
This is an easy way to make your hardwood floors and carpet look like a professional designer installed them in your home. If your hardwood floors are a lighter color, like a blonde variety, try a bold, darker carpet color to make the floors stand out. The same goes for the opposite. If your hardwoods are a darker color, try a light or pastel-colored carpet. This creates a truly eyecatching design that can work with a lot of different decor colors. Try pairing with wire brushed floors for the best effect!
Creating a Border with Inlays
To make the transition from hardwoods to carpet look much smoother, try choosing an inlay. An inlay essentially is a small, patterned hardwood piece that is placed around the perimeter of the carpet. This can make the carpet look much less like a rug and also hold it in place. If you are completely redoing your hardwood floors, you can create a pattern that works around the inlay for the best effect.
Curve the Hardwood Floors
Don't be a square, and try curving your carpet design. Boxes are much easier to install but just make the hardwoods look much more boring and standard. By adding a natural curve to the flooring, it will look much more inviting and can even make space seem much larger. Also, adding a curved carpet design can help the transition from carpet to hardwood floors look much smoother and less noticeable. 
Ready for a Beautiful Hardwood Floor? Trust John K Eareckson & Co.
When you work with John K Eareckson & Co., Flooring, we will ensure your hardwood floors undergo a stress-free acclimation process and that they sparkle for years to come; from a seamless and beautiful installation to years of maintenance, John K Eareckson & Co. Flooring has the expertise to care for your home's hardwood floors. For a consultation and more information, visit us online or give us a call at 410-788-4200. You can also look for us on Facebook, Twitter, YouTube, and Flickr.