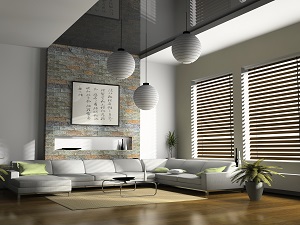 Usually, the first thought that comes to almost everyone's mind when they think of bamboo is a cute little panda munching on a green leafy stick. Or maybe a beautiful, misty green landscape of a foreign country far east from here. Something that usually won't pop into people's heads right away is bamboo flooring. But did you know that bamboo flooring is actually quite the popular choice? First and foremost, it can look almost identical to hardwood flooring or laminate flooring. But one special feature of bamboo flooring is that it is so much more environmentally friendly than typical hardwoods. This article will tell you why. 
Bamboo is a Grass
Despite popular belief, bamboo plants are not trees– bamboo is actually a type of grass native to the Asian continent. It just doesn't look very much like the grass we are used to in the United States. Bamboo is tall, sturdy, and strong, which is why so many mistake it for a type of tree. And we all know how fast grass grows. One great feature is that bamboo only takes around five years to grow to full maturity. A hardwood tree used in flooring will grow back in about 30. This means that bamboo is a more expendable natural resource that can grow back at just a small fraction of the time it would take for a tree to grow.
Bamboo Flooring is Biodegradable
Let's say in 20 years, you are fed up with your bamboo flooring and want to switch to whatever type of flooring is in 2041. As an eco-conscious person, you want to make a choice of a type of flooring that can naturally deteriorate back into nature in a reasonable amount of time. Some types of hardwood flooring can take upwards of 50 years to completely return to the earth. It's an even worse case for man-made floors like laminate flooring, which can take hundreds of years to degrade completely. Bamboo flooring, on the other hand, is processed as little as possible to make sure that when the time comes to replace it, it can degrade safely and quickly back into the environment. Of course, this doesn't mean the flooring is any less durable than hardwoods or laminates; some weaves of bamboo flooring such as strand woven bamboo are actually three times harder than oak hardwood flooring!
Ready for a Beautiful Hardwood Floor? Trust John K Eareckson & Co.
When you work with John K Eareckson & Co., Flooring, we will ensure your hardwood floors undergo a stress-free acclimation process and that they sparkle for years to come; from a seamless and beautiful installation to years of maintenance, John K Eareckson & Co. Flooring has the expertise to care for your home's hardwood floors. For a consultation and more information, visit us online or give us a call at 410-788-4200. You can also look for us on Facebook, Twitter, YouTube, and Flickr.