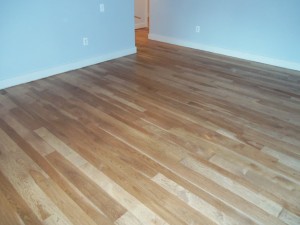 Are you considering making the switch to hardwood floors? If so, there are a few things you need to know first, like the different types of hardwood flooring.
Types of Hardwood Flooring
Solid Wood Flooring: A solid wood floor is exactly what it sounds like: a solid piece of wood, generally ranging from ¾" to 5/16" thick. These solid hardwood floors are great because they can be sanded down and refinished over and over, meaning your solid hardwood floor will be around for a LONG TIME.
Engineered Wood Flooring: An engineered hardwood floor is still a wood floor, but it is constructed using three to nine layers of different wood veneers. And while this type of floor can be sanded and refinished, it cannot be sanded and finished as many times as solid wood flooring.
Laminate Flooring: Because it is machine made and its top layer is a hardwood photographic laminated surface, laminate flooring has the look of real hardwood floors, but without all of the maintenance. However, choosing a laminate floor is not as easy as you may think.
John K. Eareckson & Co: Baltimore's choice for Custom Hardwood Floors
If new, custom hardwood floors are your dream, then John K. Eareckson & Co. is the company for you. We pride ourselves on providing the best quality and craftsmanship in the Baltimore-Washington area, from custom hardwood installation and repairs to refinishing.
Our satisfied customers have made J.K. Eareckson the oldest flooring business in the area!
If you have any questions about Custom Hardwood Floors, please contact John K. Eareckson & Co. by calling 410-788-4200 or visit JKEHardwoodFlooring.com todayfor a free quote regarding any of your hardwood flooring needs.