Carpet or hardwood? Hardwood or carpets? And don't forget laminate flooring, tiles, and linoleum!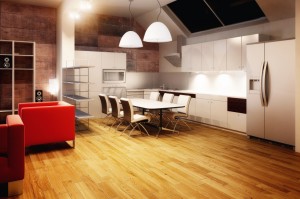 If you are installing new floors in your home, you have a tough choice ahead of you. Each type of flooring has its own set of advantages and disadvantages. The trick is to find out which flooring type makes the most sense for your desired need and your wallet.
While other types of floors have several great qualities, none can compare to hardwood flooring.
The Benefits of Hardwood Floors
Aesthetic Appeal: Face it; hardwood floors just look good. In fact, many Realtors have even reported that homes with hardwood floors spend less time on the market than those without.
Cleaner Home: Carpets soak up dirt and grime. With wood floors, what you see is what you get. Wood floors won't harbor odors, allergens, stains or dirt as easily as carpet. So, as you can imagine, hardwood floors don't require nearly as much maintenance and cleaning as carpets.
Easy to Maintain: As we mentioned above, hardwood floors require far less maintenance than carpets. And because of this, they have been known to last a lifetime (with proper maintenance and repairs, of course). If you care for your hardwood flooring, it will be around for as long as you are.
Go Green: Hardwood is the obvious environmentally-friendly flooring choice.
Easy to Install: Hardwood floors are not difficult to install. But they are even easier to install when you let a professional hardwood flooring installer do the work for you!
Interested in a New Hardwood Floor?
If so, call John K. Eareckson & Co., Baltimore's premier installer and refinisher of hardwood floors. We provide the best quality, craftsmanship, and customer service around. So if new hardwood floors are your dream, we can make those dreams come true…for less than you might imagine.
If you have any questions about Hardwood Flooring, please contact John K. Eareckson & Co. by calling 410-788-4200 or visit JKEHardwoodFlooring.com today!
J. K. Eareckson & Co. is Baltimore's Premier Hardwood Floor Installer & Refinisher