Are the hardwood floors in your Baltimore home looking a little worse for the wear? Over the years, even the most durable hardwood floors can show signs of age: fading from sun exposure, scuffs and scrapes from moving furniture, and discolorations from staining can all deteriorate the look and value of your hardwood floor. So how can you decide when hardwood floor refinishing is right for you? The experts from JKE Hardwood Flooring have a few tips on what to look for when inspecting your hardwood floors for damage.
First, it is important to note that while some areas of your floors may need to be refinished, others may not. This all depends on how much traffic a given area of your hardwood floors undergoes; if it is a section that many people walk on daily, it will need more attention than one that is rarely stepped on or covered by a throw rug.
You can test the highly trafficked areas of your hardwood floors to see whether you need to refinish them yourself. Take a small amount of water and pour it on to the wood's surface. A well-sealed hardwood floor should be impervious to water damage and the droplets will gather on top of the wood rather than soaking in. If they do soak into the wood and it becomes noticeably damp, then it is time to refinish the floors.
Because hardwood floors can be tricky to refinish on your own, the best course of action to take is to hire a professional to sand and refinish them for you. Your Baltimore hardwood flooring experts from JKE have the necessary experience to restore your floors to their original look without causing them further damage.
Is it time to have your hardwood floors refinished? Call JKE today!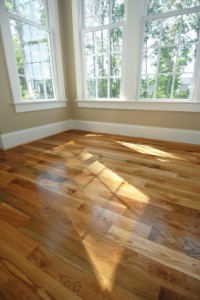 John K. Eareckson & Co.: Baltimore Custom Hardwood Flooring
At John K. Eareckson & Co., we pride ourselves on providing the best quality and craftsmanship in the Baltimore-Washington area, from custom hardwood installation and repairs to refinishing. So if you are interested in a new look to your hardwood flooring, pick up the phone and give us a call today!
If you have any questions about Refinished Hardwood Floors, please contact John K. Eareckson & Co. by calling 410-788-4200 or visit JKEHardwoodFlooring.com today for a free quote regarding any of your hardwood flooring needs.
You can also follow us on Facebook, Google+, and Twitter!
Source: