Many people try and fail to install their own hardwood floors. Because you want the end result of your installation to be flawless, even wood floors, the best thing to do is to have a professional floor installation expert from JKE Hardwood Flooring complete the project. But what are some of the common DIY hardwood floor installation mistakes, and how does your flooring contractor avoid them? JKE has the answers that you are looking for.
One of the most common mistakes DIYers make is not properly preparing the subfloor before proceeding with their installation. This can lead to many unwanted problems, including uneven floorboards, squeaking, and loose boards. The subfloor, or the foundational floor on which your new hardwood floor will be installed, has to be thoroughly cleaned, flattened, and dried before you proceed with the installing process. Subfloors also have to be made of a certain material; otherwise the boards will not adhere properly. A professional will know the difference between a well-prepared subfloor and a substandard one.
Hardwood floor installation, in order to get you the look you want, needs to be executed with a plan in mind. DIYers sometimes do not realize just how involved that planning process is. Instead, they will begin nailing or gluing down their floorboards without taking factors like slope or the size of the room into account. The result is a messy, shoddy-looking finish to your hardwood floors. A professional team will be able to measure and consider every detail before they begin so that your floorboards end up evenly spaced and distributed.
DIYers also often end up with using too few nails in their installation. An adequate amount of fasteners is a must when it comes to successful hardwood floor installation. The team from JKE Hardwood Flooring knows this, and will work to ensure that your project is executed perfectly.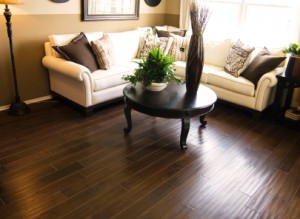 John K. Eareckson & Co.: Baltimore Custom Hardwood Flooring
At John K. Eareckson & Co., we pride ourselves on providing the best quality and craftsmanship in the Baltimore-Washington area, from custom hardwood installation and repairs to refinishing. So if you are interested in a new look to your hardwood flooring, pick up the phone and give us a call today!
If you have any questions about Hardwood Floor Installation, please contact John K. Eareckson & Co. by calling 410-788-4200 or visit JKEHardwoodFlooring.com today for a free quote regarding any of your hardwood flooring needs.
You can also follow us on Facebook, Google+, and Twitter!
Source: