We want our permanent markers to be permanent- except when they accidentally get on the floor! A permanent marker stain can mar the otherwise flawless appearance of your hardwood floors. Even if your durable hardwood floors are years away from needing refinishing, you still want to remove the unsightly stain and restore your floors to their original glory. Luckily, there are some cleaning methods to remove marker stains from hardwood floors, and JKE Hardwood Flooring is here to tell you what they are.
Rubbing alcohol
Rubbing alcohol has been known to work for a variety of purposes, but did you know it could remove marker stains from your hardwood floors? Use a paper towel with a small amount of rubbing alcohol (use more if necessary) and scrub at the stain. It may take a while, and some effort, but eventually the stain should come out. Because of its similar makeup, nail polish remover can have the same affect, though you may find it does dull the surface of the wood a little bit.
Dry Erase Marker
You know the old saying, you have to fight fire with fire? Well the basic principle applies here: If you use a dry erase marker and mark on top of the permanent marker stain and then wipe with a paper towel, it should remove some if not all of the marker stain.
Toothpaste
With its abrasive properties, toothpaste acts as a milder version of sandpaper and can work to remove the stain. Use a cleaning brush, or even an unused toothbrush, to work the toothpaste into the stain.
Of course, if nothing else works, your other option is to replace the stained piece of wood. Expert flooring installers from JKE Hardwood Flooring can help you to match the wood board so that it does not clash in color or style with the rest of your floor, and you're guaranteed to have that marker stain gone for good.
Looking to refinish or refurbish your hardwood floors? Call JKE Hardwood Flooring today!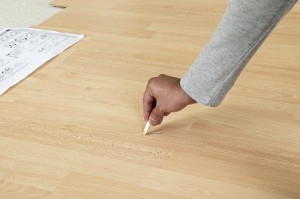 John K. Eareckson & Co.: Baltimore Custom Hardwood Flooring
At John K. Eareckson & Co., we pride ourselves on providing the best quality and craftsmanship in the Baltimore-Washington area, from custom hardwood installation and repairs to refinishing. So if you are interested in a new look to your hardwood flooring, pick up the phone and give us a call today!
If you have any questions about Refinished Hardwood Floors, please contact John K. Eareckson & Co. by calling 410-788-4200 or visit JKEHardwoodFlooring.com today for a free quote regarding any of your hardwood flooring needs.
You can also follow us on Facebook, Google+, and Twitter!
Source: