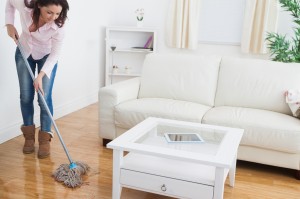 In mere weeks, spring will have officially sprung, and you can finally start enjoying the warmth, sunshine, and new growth. With spring comes spring cleaning. It's time to wash away the doldrums of winter, and begin the new season with a freshly primped home. Your hardwood floors should definitely make your spring cleaning list. Weeks of snow, mud, water, and salt have undoubtedly taken a toll on your hardwood, and while the material is durable enough to withstand this constant beating, it could definitely use a good sprucing.
Cleaning hardwood floors can be intimidating for people, especially those who are dealing with them for the first time. You're told that they are so easily scratched and that water, vacuums, vinegar, and brooms are absolutely not allowed. What does that leave you with?  The truth of the matter is that spring cleaning for hardwood floors is extremely simple, so long as you make a habit out of it.
Step 1: Dust and Debris Removal
The biggest worry when you start the process of cleaning your hardwood floors is that you'll scratch them. Stand-up vacuums can be very tough on your floors, so if you decide to use a vacuum, opt for a canister vacuum with a floor brush. These are typically made to do the job gently, and will protect your hardwood.
If you don't have a canister vacuum, don't want to buy one, or don't want to risk a vacuum at all, you'll be sweeping your floors instead. A micro fiber brooms with fringe do an excellent job of picking up tons of dust and debris, while still being gentle on your floors. In general though, any broom will do the job well.
Step 2: Damp Mop
As a hardwood floor owner, you know that water can cause some serious damage to your hardwood. Now, a few drops of water here and there are nothing to fuss about, but when it comes to mopping, regular rules do not apply. You want to minimize your floor's contact with water, so instead of mopping like you usually would, spray floor cleaner or water on a small area and go over it with a dry mop. This will prevent water from pooling.
Step 3: Be Proactive
The best way to help your hardwood maintain that spring-cleaned glow is to keep up the good work. Sweep your floors every week, and don't let stains set in. If you spill something on your hardwood, make a habit of blotting the moisture away will speed.
John K. Eareckson & Co.: Baltimore Custom Hardwood Flooring
At John K. Eareckson & Co., we pride ourselves on providing the best quality and craftsmanship in the Baltimore-Washington area, from custom hardwood installation and repairs to refinishing. So if you are interested in a new look to your hardwood flooring, pick up the phone and give us a call today!
If you have any questions about New Hardwood Floors, please contact John K. Eareckson & Co. by calling 410-788-4200 or visit JKEHardwoodFlooring.com today for a free quote regarding any of your hardwood flooring needs.
You can also follow us on Facebook, Google+, and Twitter!