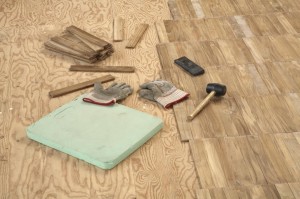 Getting that classic hardwood look in your home isn't as simple as snapping your fingers. Once you make the decision to have hardwood flooring installed in your home, you have to create a budget, consider your needs, choose your species, choose your board length and width, and more. There is so much to consider, that you may forget to check your subfloor. Before you can even think about the type of hardwood floor you should choose, you should know what lies beneath the surface of your current floor. Subflooring can have a major impact on your project and your budget.
What is a subfloor?
A subfloor is the layer of flooring that rests just beneath your decorative flooring. It can be made of a few different materials including plywood, composite, particle board, and concrete. Subfloor provides the structural base that will keep your hardwood safely in place and protect it from the elements. Not all subfloors lend themselves well to hardwood installation, so make sure you find out what kind of subfloor you have before you get into the installation process.
Option #1: Plywood
Over the course of the last several decades, plywood has become the standard option for home subfloors. If your house is equipped with plywood subfloors, you're a lucky homeowner. Plywood floors work with any kind of new flooring option, and are just about the only viable option for hardwood flooring installation. Prior to having your floor installed, make sure that your plywood is thick enough to support your hardwood, and have a moisture test to ensure that it will keep your flooring in top shape.
Option #2: Concrete
It can be incredibly disheartening to find that your subfloors are made of concrete. Concrete is especially common in basements, and can be tough to work with. It is possible to install hardwood over concrete subfloors, but it isn't recommended. Concrete is made with water, and its porous nature makes it a very difficult to keep moisture far from your hardwood. Moisture can cause your hardwood floors to warp and ruin all of the hard work and money spent.
There are two possible solutions to this problem. You could either place a layer of plywood over the top of your concrete subfloor, or opt for engineered hardwood instead of solid hardwood. Engineered hardwood has several layers to help protect wood from warping, and will look just as great as solid wood.
Option #3: Particle Board
Particle board isn't technically a subfloor, but many people find it when they remove their decorative flooring. Particle board is usually installed as a way to add height to flooring. This material is mealy in texture, and falls right apart when you try to put hardwood over top. The only viable option when it comes to particle board, is to remove it.
John K. Eareckson & Co.: Baltimore Custom Hardwood Flooring
At John K. Eareckson & Co., we pride ourselves on providing the best quality and craftsmanship in the Baltimore-Washington area, from custom hardwood installation and repairs to refinishing. So if you are interested in a new look to your hardwood flooring, pick up the phone and give us a call today!
If you have any questions about New Hardwood Floors, please contact John K. Eareckson & Co. by calling 410-788-4200 or visit JKEHardwoodFlooring.com today for a free quote regarding any of your hardwood flooring needs.
You can also follow us on Facebook, Google+, and Twitter!