As durable as your new hardwood floors are, a heavy piece of furniture could spell disaster for its finish if you are not careful. But that doesn't mean you have to throw out your favorite couch and chairs in exchange for inflatable furniture- it simply means that you have to take some precautionary measures to keep your floors looking like new. Read on to find out JKE Hardwood's top tips for keeping your hardwood floors safe.
Don't Let Heavy Furniture Dent or Scratch Your Hardwood Floors
One of the top ways furniture can damage your hardwood floors is by being dragged across it. Even if you are only moving a desk or chair a few feet from its original position, by dragging it across the surface of the wood, you could potentially scratch the finish, leaving a mark. The solution to this problem is a simple one: no sliding or dragging! If a piece of furniture is too heavy for you to lift on your own, enlist the help of a friend or use a trolley to safely move it from one place to another.
Denting is another much-feared hardwood flooring ailment that every homeowner wants to avoid. Even if a heavy piece of furniture is left stationary, a dent can form if you do not protect the wood ahead of time. Use furniture pads on the feet of couches, chairs, and tables to prevent the weight of the furniture from leaving an indentation on the hardwood floor's surface. Additionally, you can use design accents, such as an area rug, and place them underneath of the furniture to provide both an element of visual interest and of extra protection for your hardwood floors.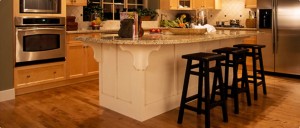 John K. Eareckson & Co.: Baltimore Custom Hardwood Flooring
At John K. Eareckson & Co., we pride ourselves on providing the best quality and craftsmanship in the Baltimore-Washington area, from custom hardwood installation and repairs to refinishing. So if you are interested in a new look to your hardwood flooring, pick up the phone and give us a call today!
If you have any questions about New Hardwood Floors, please contact John K. Eareckson & Co. by calling 410-788-4200 or visit JKEHardwoodFlooring.com today for a free quote regarding any of your hardwood flooring needs.