As anyone who has ever searched for a new home knows, there are certain features that you have your heart set on. When you finally find the home that has that exact look and feel you wanted, there isn't much that will stand in your way of making an offer on it. But will house hunters even cast aside price as a priority when they find the home of their dreams? Read on to find out which extra features prompt homeowner to shell out extra dollars.
Hardwood Floors
Yes, house hunters can definitely be tempted to spend more when they see their potential new home has highly sought-after hardwood floors. According to statistics from a USA Today article, over half of home buyers will pay more for hardwood, and roughly 25% of buyers who are 35 and under consider this feature "very important" to their final decision. Hardwood floors are desirable because they are easy to keep clean, they lend your home a look of warmth, and they are easy to match with a variety of furnishings.
What other features do homeowners hand over their wallets for? Stainless steel appliances are considered to be a solid investment; their sleek modern look, incidentally, provides an appealing contrast with classic hardwood floors. Add those together with another must-have item for homeowners, granite countertops, and you could have the ideal look for a kitchen!
If you are keeping in mind the resale value of your home later down the line, remember that features like hardwood floors could help you significantly when it comes time to sell. Have questions about installing hardwood floors in your home to enjoy both now and later? Call JKE today!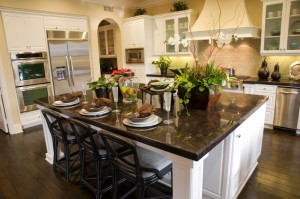 John K. Eareckson & Co.: Baltimore Custom Hardwood Flooring
At John K. Eareckson & Co., we pride ourselves on providing the best quality and craftsmanship in the Baltimore-Washington area, from custom hardwood installation and repairs to refinishing. So if you are interested in a new look to your hardwood flooring, pick up the phone and give us a call today!
If you have any questions about New Hardwood Floors, please contact John K. Eareckson & Co. by calling 410-788-4200 or visit JKEHardwoodFlooring.com today for a free quote regarding any of your hardwood flooring needs.
You can also follow us on Facebook, Google+, and Twitter!
Source:
http://www.usatoday.com/story/money/personalfinance/2013/04/28/24-7-home-features/2106203/