Wood flooring is fairly common in homes today. It adds a nice touch to any home and is easy to take care of, especially with kids and pets running around. After a while, though, it can be time for a change to add a unique flair to your home. While many people don't consider painting their wood floors, a fresh coat of paint or pretty pattern can breathe new life into a room. The process is one that a seasoned DIY-er can complete with some time and dedication. Painting wood flooring takes about a week of solid work to complete because of the different stages of painting and drying necessary to ensure a well-sealed floor.  Just follow these steps to get the look you want: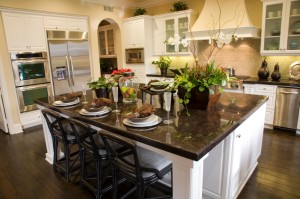 Sand the floors – This step is important for the primer to set. Make sure you sand the floors down with 150-grit sandpaper. It will make the floor just rough enough that the primer will stick well.
Clean – Get all of the dust from sanding up so none of it ends up in your newly painted floors. It is best to get everything up with a floor cleaner made specifically for wood but be sure to let it dry. Not letting it dry for long enough can cause the primer and paint to not stick.
Prime it! – Roll on a fresh coat of primer. If you're planning on painting with oil base paint, use an oil base primer. The same goes for latex paint and primer. If you mix different types of paint and primer, it can cause bubbles and peeling.
Sand it again – This step will help to avoid getting any kind of moisture in the wood or paint. The last thing you. want is to skip a second sanding and have to start all over later. Use 220-grit sandpaper this time.
Paint – After you've sanded the floors a second time and made sure you have a dry, dust free floor, it's time to get to the fun part: adding color. This step really customizes your floors. You can paint any kind of pattern you want or stick to one color. Either way, it will make your floors uniquely your own. Paint very carefully with a roller and be sure to get out any kind of bubbles that may form from painting. Make this coat thin and even to prepare for the next coat.
Reapply – Let the first coat dry COMPLETELY before adding another. You'll be doing three thin coats of paint altogether. You'll achieve the color you want and have floors that will not easily lose the color
Seal – Once the paint is entirely dry, add a coat or two of polyurethane sealer to make your floor shiny and to seal in your color. As applies with everything else, if you are going to do more than one coat, let the first coat dry entirely first.
Avoid walking on your sealed floors for a few days if you can. It is best to let them have time to set to avoid compromising all the hard work you've just done. It is also worth noting that floors are very difficult to refinish once they have been painted. Make sure that the floors are either beyond the point of refinishing or that you are absolutely sure you want to paint them. If the job sounds too difficult as a DIY, contact JKE Hardwood Flooring and we'd be happy to help you paint your wood floors.
New and Refinished Hardwood Floors from John. K. Eareckson & Co.
If new hardwood floors are your dream, Eareckson can make those dreams come true – for less than you might imagine. Whether installing over a wood sub floor or concrete, John K. Eareckson & Co. will provide the best quality and craftsmanship. Eareckson takes pride in the entire experience of refinishing and installing, and satisfied customers have made Eareckson the oldest flooring business in the area.
If you have any questions, please contact John K. Eareckson & Co. by calling 410-788-4200 or visit JKEHardwoodFlooring.com today!
John K. Eareckson & Co. is a premier installer and refinisher of hardwood floors in the Baltimore / DC metro region. We will provide the best quality, craftsmanship, and customer service around.
"After all, you are walking on our reputation."
Source: Painting Hardwood Floors