More and more homeowners are concerning themselves with the consequences of their projects on the environment. There are certain materials that use harmful chemicals and toxins in their manufacturing process, and others that cannot be recycled or repurposed. But luckily, there is a way to be environmentally responsible while still gaining beautiful results: install hardwood flooring!
Hardwood flooring is one of the "greenest" flooring options available to you. For one thing, wood, as a naturally occurring resource, is replenishable and does not require a lengthy production process like some synthetics do. Hardwood flooring actually improves the air quality in your home as well; unlike carpeting, which can trap allergens and other irritants in its fibers, hardwood flooring is easy to keep clean.
Hardwood flooring is also environmentally friendly because it is recyclable. If you have a hardwood floor installed, once you move or are ready to replace your floor, the wood planks and boards can either be reused in a new installation or repurposed into other furniture, containers, or even fuel. Other synthetic and stone types of flooring do not share these characteristics, and so if you are trying to remain as environmentally conscious as possible when designing your new home, selecting hardwood flooring could be your best bet.
Are you a homeowner looking to enhance the beauty and value of your home with the addition of hardwood flooring? Let JKE Hardwood Flooring help you! We can discuss the many environmentally friendly benefits and other advantages of hardwood flooring and design a floor installation that will make you and your family happy.
New Hardwood Floors from John. K. Eareckson & Co.
If new hardwood floors are your dream, Eareckson can make those dreams come true – for less than you might imagine. Whether installing over a wood sub floor or concrete, John K. Eareckson & Co. will provide the best quality and craftsmanship. Eareckson takes pride in the entire experience of refinishing and installing, and satisfied customers have made Eareckson the oldest flooring business in the area.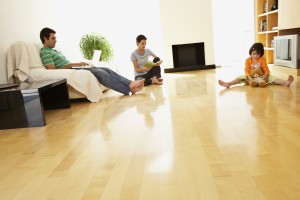 If you have any questions, please contact John K. Eareckson & Co. by calling 410-788-4200 or visit JKEHardwoodFlooring.com today!
John K. Eareckson & Co. is a premier installer and refinisher of hardwood floors in the Baltimore / DC metro region. We will provide the best quality, craftsmanship, and customer service around.
"After all, you are walking on our reputation."
Source:
http://www.armstrong.com/flooring/eco-friendly-hardwood-flooring.html