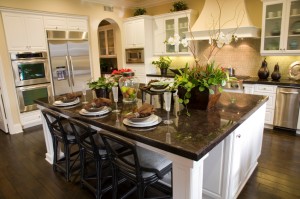 One of this year's biggest trends is adding hardwood to your kitchen. For many homeowners, this is a terrifying thought. Hardwood is not supposed to mesh well with kitchens. They are wet, see some of the highest traffic of any room in your house, and they are messy. Most people choose some sort of tile for their kitchens, but this can disrupt the flow of an otherwise entirely hardwood home. Say goodbye to your fears, and start the new year off with a bold new look. With a few careful choices, hardwood flooring can be the perfect choice for your kitchen.
Choose the right finish
You can customize your hardwood floors in so many ways, and picking your finish is just one choice you'll have to make. When choosing hardwood floor finishes for you kitchen, your pick may hold a little bit more importance. Kitchens are the most heavily used space in your home. They are a common area that most members of your family will visit multiple times a day. The point is, they will probably see a bit of wear and tear. The best way to disguise this is by choosing a matte or satin finish. These low-sheen options tend to be much more forgiving. Glossy can be nice, but it isn't always suitable for a kitchen.
Choose the right species
Each different species of wood has a different ability to withstand pressure, or to put it more simply, some are harder than others. With so many feet prancing around in your kitchen every day, you'll need a durable species. Stay away from soft woods like pine, and opt for oak, maple, or cherry. In addition to durability, look for heavily grained woods. They provide a little added visual interest, and they are better for hiding scratches, dents, or debris.
Practice good maintenance
Your kitchen hardwood flooring can remain in pristine condition for decades if you treat it right. A major concern is spillage. Whether someone spills some milk, your sink splashes some water onto the floor, or you drop a bowl of soup, your floor will require immediate attention. Prolonged exposure to liquid can be troublesome for hardwood. Spills aren't the end of the world though. Clean them up quickly and you'll have nothing to worry about. Sweep regularly, and use floor mats where you can.
John K. Eareckson & Co.: Baltimore Custom Hardwood Flooring
At John K. Eareckson & Co., we pride ourselves on providing the best quality and craftsmanship in the Baltimore-Washington area, from custom hardwood installation and repairs to refinishing. So if you are interested in a new look to your hardwood flooring, pick up the phone and give us a call today!
If you have any questions about New Hardwood Floors, please contact John K. Eareckson & Co. by calling 410-788-4200 or visit JKEHardwoodFlooring.com today for a free quote regarding any of your hardwood flooring needs.
You can also follow us on Facebook, Google+, and Twitter!