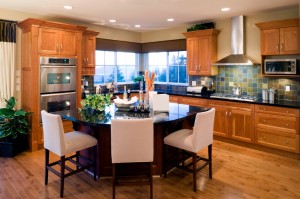 Hardwood floors have been a popular choice for home flooring for more than a few decades. With so many years of use on the books, you could write an encyclopedia all about hardwood flooring. When you're deciding on the best flooring option for you, that amount of information can be intimidating. On top of all of the facts swimming around out there, there are plenty of myths. These hardwood flooring myths can make or break your decision, and that's why you need to get to the bottom of them.
The kitchen is no place for hardwood
People shy away from installing wood floors in the kitchen and often choose tile instead. Tile is fine for kitchens, but hardwood can actually be an excellent choice. If you have hardwood in the rest of your home, tiling your kitchen could be an unattractive break and simply isn't necessary. Your kitchen is probably the most used room in your home, and hardwood flooring is built to withstand that kind of traffic. You may be worried about spills, but hardwood is quite easily cleaned and isn't as sensitive to water as you may think.
Hardwood requires labor-intensive mopping
Mopping is probably on the list of least enjoyable household chores, so if you believe this myth, you might find yourself avoiding hardwood. The truth is that mopping is not only unnecessary, but discouraged. Even though properly finished hardwood floors can resist some water, using wet-mopping as your primary method of cleaning will do damage. Constant application of water can take away the luster of your finish, and harm the wood itself. Instead, a dry duster can quickly do the work with little effort and no damage. With the right techniques, hardwood flooring is actually incredibly low maintenance.
Floors are defective if there are any gaps
During certain times of the year you might notice gaps between some of the boards of your hardwood floor. Some people site these unsightly gaps as a typical issue with hardwood installation. In reality, this is perfectly normal. The humidity in the air can have an effect on wood. In the winter months there is less moisture in the air. This will cause your boards to contract, thus creating minor gaps. Come summertime, these issues will remedy themselves.
I shouldn't wear shoes in my house
This is, for the most part, untrue. Hardwood floors are quite resistant to heavy traffic and scratches. They're an incredibly durable option, and you won't have any problems if you like to wear shoes in your home. There is one major exception to this rule. High-heeled shoes are surprisingly damaging to hardwood. Your high heels act like tiny hammers, hitting your floor with more force than an elephant's foot.
John K. Eareckson & Co.: Baltimore Custom Hardwood Flooring
At John K. Eareckson & Co., we pride ourselves on providing the best quality and craftsmanship in the Baltimore-Washington area, from custom hardwood installation and repairs to refinishing. So if you are interested in a new look to your hardwood flooring, pick up the phone and give us a call today!
If you have any questions about New Hardwood Floors, please contact John K. Eareckson & Co. by calling 410-788-4200 or visit JKEHardwoodFlooring.com today for a free quote regarding any of your hardwood flooring needs.
You can also follow us on Facebook, Google+, and Twitter!