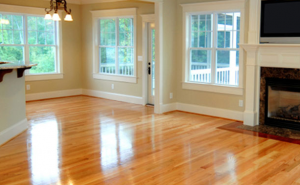 Hardwood floors can add an extra sophistication to any room.Wood floors are popularly used in home design because the hardwood floors are renewable flooring materials. You do not have to fully replace hardwood floors. The flooring material can be refinished or sand to revitalize worn down hardwood flooring.
When your hardwood floors are kept up, you can reap the benefits of better Indoor Air Quality while doing your share to save the environment.
Hardwood floors can last hundreds of years with regular floor maintenance. It takes hardwood trees around 40 to 60 years to fully mature. To save trees, have your hardwood floors sanded and refinished.
Hardwood floor refinishing is not only more cost effective than replacing hardwood floors, but it's also easier. You can increase your home value or business value, by refinishing hardwood floors  because the making your wood flooring as attractive as possible always adds value.
Hardwood floors can be refinished, recoated or replaced. You should refinish your hardwood floors any time your flooring looks worn out or there's damage. If deep scratches or gaps are very noticeable in the wood, you will need a complete refinishing of your hardwood floors.
Here at JKE Flooring, we will sand your hardwood floors to make the surface level. Next, we will help you choose a great color for your wood. Afterwards, we will make any repairs to your hardwood floors. To put it simple, we are here to keep your hardwood floors attractive and durable with our Finishing, refinishing services, sanding and hardwood floor repairs.
Read our Hardwood floors repairs and service page for more information. We are here to help you reap the benefits of refinishing your hardwood floors.
Have a look at our Project Gallery of Hardwood Floors, to see how we can increase your home value.  We are a reputable premier installer and refinisher of hardwood floors. You can read up on our complete Hardwood flooring services for more details. We are here to serve your hardwood floor maintenance needs and find ways to save you money and time on floor maintenance.
John K. Eareckson & Co.: Baltimore Custom Hardwood Flooring
At John K. Eareckson & Co., we pride ourselves on providing the best quality and craftsmanship in the Baltimore-Washington area, from custom hardwood installation and repairs to refinishing. So if you are interested in a new look to your hardwood flooring, pick up the phone and give us a call today!
If you have any questions about Refinished Hardwood Floors, please contact John K. Eareckson & Co. by calling 410-788-4200 or visit JKEHardwoodFlooring.com today for a free quote regarding any of your hardwood flooring needs.
You can also follow us on Facebook, Google+, and Twitter!
Source:
http://woodfloors.org/environmental-benefits.aspx
http://www.carsonshardwoodfloors.com/hardwood-flooring-tips/hardwood-floor-refinishing/