When it comes to selecting the right flooring for your home, there are many factors that you will take into consideration. You might be concerned with cost, durability, color, or any number of other things that might affect your decision. Increasingly, the issue of whether or not a flooring type is "green" has topped many homeowners' lists of concerns. They want to be environmentally friendly, while at the same time guaranteeing a high quality product. Luckily, you can find both of those things combined in hardwood flooring! JKE Hardwood Flooring is here to help explain why.
For starters, wood is a natural resource that replenishes itself when new trees grow. Even the growing process is environmentally friendly; when trees grow, they produce oxygen, improving the quality of the air you breath every day! Unlike manufactured, acrylic flooring, hardwood flooring is guaranteed to be natural.
Hardwood flooring is also one of the most energy efficient types of flooring to produce. Its overall production uses up less water and less energy than most other kinds of flooring, which can be incredibly time-consuming and energy inefficient to make.
There's a reason people have been choosing hardwood flooring for hundreds of years: because it can last that long! Hardwood flooring when properly maintained and cared for will last for year after year, meaning that you, as a homeowner, do not have to worry about wasting any time, money, or energy on replacement flooring.
And when the time does finally come to replace a hardwood floor, or if you simply want to exchange a certain kind of wood for another, hardwood flooring can be recycled easily into furniture or for other kinds of purposes. It can also be burned for energy and heat, making hardwood flooring one of the "greenest" options around!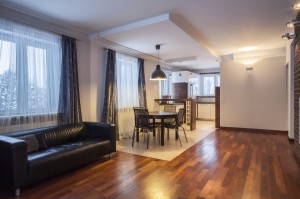 John K. Eareckson & Co.: Baltimore Custom Hardwood Flooring
At John K. Eareckson & Co., we pride ourselves on providing the best quality and craftsmanship in the Baltimore-Washington area, from custom hardwood installation and repairs to refinishing. So if you are interested in a new look to your hardwood flooring, pick up the phone and give us a call today!
If you have any questions about Refinished Hardwood Floors, please contact John K. Eareckson & Co. by calling 410-788-4200 or visit JKEHardwoodFlooring.com today for a free quote regarding any of your hardwood flooring needs.
You can also follow us on Facebook, Google+, and Twitter!
Source:
http://woodfloors.org/environmental-benefits.aspx