Hardwood floors have long been the most coveted by homeowners for their aesthetic appeal, their durability, and their value. It's hard to find a more sought-after feature for today's house hunter than finished hardwood floors. But aside from all of their more obvious benefits, what other advantages can hardwood floors bring to you and your family? Believe it or not, hardwood floors may just make your home healthier.
How does it accomplish that, might you ask? Well, in a number of ways is the answer. For one thing, particularly in the summer when you might have your windows open to let in the breeze, airborne allergens can get inside your home. Certain types of flooring, such as carpet, will trap these allergens in their fibers and hold them there. If you have particularly sensitive or even mild allergies, the constant presence of these allergens in your home can cause no end of misery. But with hardwood floors, because they have a flat, nonporous surface, allergens do not get trapped; they rest on the surface of the wood and are easily removed when you go about your usual cleaning routine.
The same principal applies when you consider the accumulation of dust in your home. Carpeting attracts and holds on to dust, and tile flooring allows dust to collect within the grout between the individual tiles. Hardwood floors are easy to dust and maintain, meaning that the irritants in dust will not affect your day-to-day health if your floors are cleaned regularly.
When carpets become damp, they can also become a good place for mold to grow and spread. It is hard to immediately and thoroughly dry a section of carpet after a spill. Not so with hardwood floors; the surface, which is sealed against water damage, can be wiped up right after a spill occurs, minimizing the chance of mold development.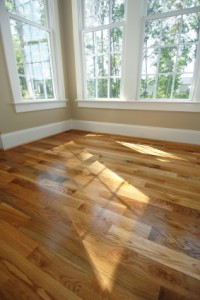 John K. Eareckson & Co.: Baltimore Custom Hardwood Flooring
At John K. Eareckson & Co., we pride ourselves on providing the best quality and craftsmanship in the Baltimore-Washington area, from custom hardwood installation and repairs to refinishing. So if you are interested in a new look to your hardwood flooring, pick up the phone and give us a call today!
If you have any questions about Refinished Hardwood Floors, please contact John K. Eareckson & Co. by calling 410-788-4200 or visit JKEHardwoodFlooring.com today for a free quote regarding any of your hardwood flooring needs.
You can also follow us on Facebook, Google+, and Twitter!
Sources:
https://www.mybonahome.com/news/2010/11/hardwood-floors-and-your-health.html