Though they are generally very durable, hardwood floors can be damaged if you are not careful with them. Most often a heavy piece of furniture or dragging something across a hardwood floor can cause either a dent or a scratch in its surface. While extensive damage may warrant refinishing your entire hardwood floor, you can usually avoid that with more minor flaws. JKE Hardwood Flooring has some tips for you on how to deal with and disguise dents in your hardwood flooring.
Steam Solution
When a dent is not too deep, it can often be at least partially removed with steam. One of the easiest at-home ways to steam a dent out of your hardwood flooring is by placing a damp towel or washcloth over the dent and then ironing it. This causes the wood to swell, and so the dent will disappear! You can finish off the job by sanding the area to even out any leftover inconsistency in the wood.
Brand New Board
If a dent is only affecting one specific floorboard, you can have that board removed altogether. Experts from JKE Hardwood Flooring can replace a single board to match perfectly with your others; it will be like nothing ever happened!
Filling In
With some deeper dents, an epoxy or a wood or lacquer inlay can be used to fill in the dent. Even so, a deep dent might need to be addressed in the future when it is time to refinish your flooring.
Covering Up
Some dents are so small that it is almost not worth it to deal with them! Take the opportunity to rearrange furniture or use a throw rug to cover it up- just be careful not to do any more damage to the wood when you're switching chairs and couches around!
If these simple solutions do not address your problem entirely, then a hardwood floor refinishing might be necessary. To get rid of scratches and dents entirely, it is the only guaranteed solution. Call on the experts at JKE Hardwood Flooring today to get started with your hardwood floor refinishing project!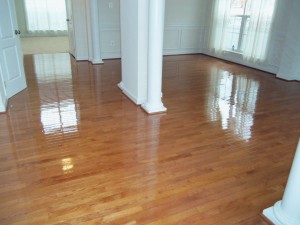 John K. Eareckson & Co.: Baltimore Custom Hardwood Flooring
At John K. Eareckson & Co., we pride ourselves on providing the best quality and craftsmanship in the Baltimore-Washington area, from custom hardwood installation and repairs to refinishing. So if you are interested in a new look to your hardwood flooring, pick up the phone and give us a call today!
If you have any questions about Refinished Hardwood Floors, please contact John K. Eareckson & Co. by calling 410-788-4200 or visit JKEHardwoodFlooring.com today for a free quote regarding any of your hardwood flooring needs.
You can also follow us on Facebook, Google+, and Twitter!
Source: