Are you a parent-to-be wondering about the best way to prepare your home for your little one? The room you will probably be most focused on is the nursery; this room will serve as your child's room for the early years of their life, and possibly as they grow older as well. One important decision to make when designing your nursery is the one right beneath your feet: your flooring! What kind of flooring is the most practical for a nursery? JKE Hardwood Flooring has the answer.
Hardwood floors are one of the best choices for your nursery. Some people would advise against installing hardwood purely as a safety concern; babies learned to walk and toddle, they say, would be safer on a soft surface, like carpeting. However, what this does not account for is another type of safety concern. Carpeting, while a soft flooring for your baby, can also trap more dust, allergens, and even mites that can affect your baby's health. It is also difficult to clean, making all those stains that are a natural part of having a baby a permanent fixture in your flooring. Alternatively, hardwood floors are easy to dust and keep clean, cutting back on harmful germs in your baby's room. Still concerned about the hard surface issue? You can easily decorate your nursery with an area rug that you can remove and clean thoroughly when necessary while still providing your little one a comfy place to crawl.
The added benefit of hardwood floors in a nursery is that they can "grow up" along with your baby. When they graduate from toddler to teen (not skipping the steps in between, of course) you can remove the area rugs or change them out for different designs, while still leaving your quality hardwood flooring in place.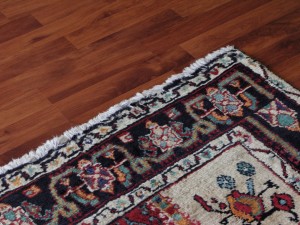 John K. Eareckson & Co.: Baltimore Custom Hardwood Flooring
At John K. Eareckson & Co., we pride ourselves on providing the best quality and craftsmanship in the Baltimore-Washington area, from custom hardwood installation and repairs to refinishing. So if you are interested in a new look to your hardwood flooring, pick up the phone and give us a call today!
If you have any questions about Refinished Hardwood Floors, please contact John K. Eareckson & Co. by calling 410-788-4200 or visit JKEHardwoodFlooring.com today for a free quote regarding any of your hardwood flooring needs.
You can also follow us on Facebook, Google+, and Twitter!
Source:
http://nursery.about.com/od/Walls-and-Floors/a/Great-Flooring-Options-For-Kids.htm