You've finally done what had seemed like the impossible: You found your dream home. It's located in a friendly neighbor, it's exactly the right size for your family, and it has all of the amenities you could want. Except, perhaps, for one thing- the flooring. Your new home might be exactly what you were looking for in all other aspects, but if you are left with the unattractive carpeting or outdated tiles that the last owners had, it can sour the whole experience of moving in. Luckily, you are not without your options, and with JKE Hardwood Flooring, you can install the perfect hardwood floors to match your perfect home!
 Custom Hardwood Floors for your New Home
Designing and installing brand new hardwood floors for your home is one of the best investments you can make. Not only are hardwood floors durable and guaranteed to last for years to come, but creating a custom design can help make your new house feel more like you; you can really establish a sense of "home" there. Hardwood floors come in a variety of wood types, plank widths, and finishes, so no matter what your preference is, you are sure to find the ideal flooring for you and your family. Hardwood flooring is also one of the most versatile flooring options. It matches a wide variety of furniture and paint colors, so you can design and redesign your rooms as many times as you want, and the flooring will always be complementary. No more dealing with cracking, splitting tiles or carpet that stains easily- hardwood flooring is the way to go for your new home!
Are you about to move into a new home and want your very own custom hardwood floors to go with it? Call JKE Hardwood Flooring today to get started.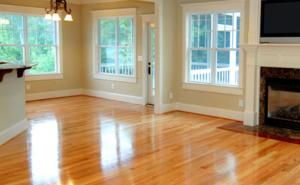 John K. Eareckson & Co.: Baltimore Custom Hardwood Flooring
At John K. Eareckson & Co., we pride ourselves on providing the best quality and craftsmanship in the Baltimore-Washington area, from custom hardwood installation and repairs to refinishing. So if you are interested in a new look to your hardwood flooring, pick up the phone and give us a call today!
If you have any questions about New Hardwood Floors, please contact John K. Eareckson & Co. by calling 410-788-4200 or visit JKEHardwoodFlooring.com today for a free quote regarding any of your hardwood flooring needs.