Every new homeowner knows that they covet a luxurious hardwood floor, but oftentimes, that's all they know. What they do not always consider, until they are confronted with the wide variety of choices, is what kind of wood they want to use in their home. Which one will best complement a room's intended color scheme? Which variety will be on-budget yet still high quality? When it comes to choosing a hardwood flooring type for your custom installation, JKE has all of the details you need.
In the oak family, there are two common flooring options: red oak and white oak. Red oak is by far most popular of the domestic wood species due to its relative hardness and distinct graining patterns. There are also color variations that many homeowners like to select from in red oak: on the lighter end of the spectrum there are pinkish cream shades, while it can also darken to a reddish brown. White oak, on the other hand, is even harder than red oak, and your hardwood flooring expert will tell you that one benefit of white oak is how evenly it can be coated in a stain or finishing treatment.
Maple is another popular wood type known for its durability. Maple flooring can include mineral streaks within it, which cause coloration that some homeowners prefer over plain maple. Unlike other hardwood flooring types, the grain on maple is not very dark; the end result is a wood that looks to be almost one uniform color throughout.
For a warmer tone, walnut has become a top pick for flooring amongst homeowners. Black walnut comes in a rich, dark brown color, and it is also overall a softer wood type compared to other choices. For this reason, homeowners may choose an exotic walnut variety, such as Brazilian Walnut, which has all the visual appeal of its American counterpart but with a slightly more durable surface.
Those are just a few of the most popular hardwood flooring varieties available; for a full selection and details on the different types of wood, call the experts at JKE Hardwood Flooring today!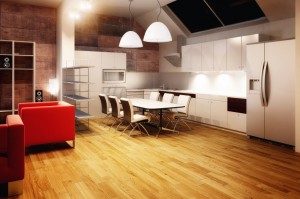 John K. Eareckson & Co.: Baltimore Custom Hardwood Flooring
At John K. Eareckson & Co., we pride ourselves on providing the best quality and craftsmanship in the Baltimore-Washington area, from custom hardwood installation and repairs to refinishing. So if you are interested in a new look to your hardwood flooring, pick up the phone and give us a call today!
If you have any questions about Refinished Hardwood Floors, please contact John K. Eareckson & Co. by calling 410-788-4200 or visit JKEHardwoodFlooring.com today for a free quote regarding any of your hardwood flooring needs.