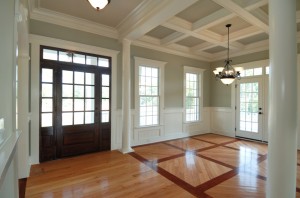 In today's market, consumers want to express their individuality while making ecologically conscious decisions. Bamboo flooring, fits both of those needs. Bamboo flooring is sometimes perceived as an inferior choice for home flooring, but that conception is far from true.
The Benefits of Bamboo Flooring
Bamboo flooring actually shares many of the properties and positive benefits of hardwood flooring. Of course, you should spend the time to research the pros and cons of any type of flooring, but many people will find that bamboo flooring fits their needs better than they expected.
Bamboo Flooring is a Renewable Resource
Industries need to adapt to the needs of its clients, and the construction industry is no different.
While it can take 20 years or more for a hardwood tree to reach maturity, a bamboo plant can mature in three to five years. This obviously appeals to those who are looking to make an ecologically conscious decision, and with how quickly the material for bamboo flooring can reach maturity, it will remove the guilt that some may feel by using hardwood materials.
Durability of Bamboo Flooring
If you have a younger or more active family, bamboo flooring is a great option to accommodate your everyday lifestyle.
When you select bamboo, you have flooring that is slightly more water resistant than hardwood. Spills and stains are bound to happen if you have animals or young children running around, so selecting bamboo will help to decrease the damage done to your floor by accidental messes. Bamboo flooring is also less susceptible to warping than hardwood.
The Cost of Bamboo Flooring
Compared to some other woods that could be used for flooring, bamboo is relatively inexpensive. While there will be high-end options you can select, bamboo flooring can fit your budget.
It's important to note that even though you may save in cost with bamboo flooring, that doesn't mean you will lose quality. Even if your floor costs less than a hardwood floor, it won't look cheap.
Bamboo Flooring's Distinct Style
Aside from the being an eco-friendly choice, a major benefit of bamboo flooring is that it allows expression for individuality.
When you host a guest, the first thing they will notice is your floor. Instead of having commonplace flooring, why not go for something that will stand out in a good way? Your guests will not only be impressed with how unique your bamboo flooring is, but the story on how you used a renewable resource will impress them as well.
The experts at John K. Earcekson & Co. pride themselves on providing the Baltimore-Washington area with quality and craftsmanship. Don't wait any longer to get the beautiful flooring your home deserves, and give us a call today!
We will gladly answer any questions, and you can give us a call at 410-788-4200. If you're interested in a free quote, visit our website JKEHardwoodFlooring.com. Also, make sure to check us out on Facebook, Google+ and Twitter!