One of the most popular conventions in a new home these days is a hardwood floor. While beautiful and able to add character to your home, they can also be easily scuffed and scratched. The last thing you want is to discover is nicks and marks all over your floors because your furniture moved slightly this way and that. Fortunately, there are some things you can do to preserve your hardwood floors: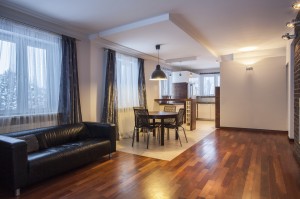 Invest in an area rug!
Putting furniture on top of an area rug can add some panache to the room while preventing scratches. With so many options for area rugs out there, take advantage of the opportunity to really make a statement!
Wheel it around
Wheels are often found on furniture such as cabinets or entertainment units to make moving them easier. For best results, invest in non-marking rubber balls or ball wheels, as these can help reduce the likelihood of scratches.
Furniture pads
Furniture pads are fantastic and cheap. They go under the feet or corners of a piece of furniture to provide a cushion between the furniture and the floor. One great benefit of furniture pads is you can slide furniture around, rather than needing to pick it up. These can be purchased at your grocery store, any big box store, and your local hardware store. You can even make your own out of old blankets or other thick fabrics.
Lift, Don't Push
If you need to move a piece of furniture, lift and carry it to its destination, rather than sliding it across the floor on its bare feet, which can easily scratch the floor. For bigger pieces of furniture, it is best to have a helper around.
Now that you have some tips to keep your hardwood floors in perfect shape, give us a call today at 410-788-4200 or visit JKEHardwoodFlooring.com to get started on making your flooring dream into a reality! John K. Eareckson & Co. provides the best quality and craftsmanship around and we take pride in the entire experience, from consultation to installation. We are only satisfied with the job when you are.