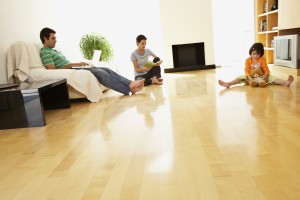 A hardwood floor is a solid investment for your home. Not only are hardwood floors extremely durable, but they also add visual appeal and property value to your home, as they are one of the most sought-after features by house hunters. But in order to keep your hardwood floors looking like new, sometimes a little hardwood floor restoration is necessary. Luckily for you, the experts at JKE Hardwood Flooring are here to help!
Restoring your hardwood floors can involve a number of different steps. Typically, a hardwood floor expert will begin by sanding the surface of the floor to remove the layer of wood that has become dull and damaged with age. Sanding a hardwood floor is something that you want to leave to a professional to do, as you can easy over-sand a section and cause it to dip or buckle.
After sanding your hardwood floors, your JKE Hardwood Flooring expert will stain the wood. Staining is a very important part of the restoration process. A stain serves two main purposes: First, it enhances the color and grain of the wood and adds beauty. Secondly, and perhaps most importantly, a stain protect the integrity of the wood and ensures that it is water-resistant. A water-resistant stain can go a long way in preventing damage such as warping or mold growth for your hardwood floors.
Do your hardwood floors need to be restored with an expert hand? Call JKE Hardwood Flooring today and have your hardwood floors looking like new in no time!
Hardwood Floors in and around Baltimore, Maryland
John K. Eareckson & Co. can turn your flooring dream into reality! We provide the best quality and craftsmanship around and we take pride in the entire experience, from consultation to installation. And we are only satisfied with the job when you are.
Satisfied customers have made Eareckson the oldest flooring business in the Baltimore-Washington DC area!
If you have any questions about Hardwood Flooring, please contact John K. Eareckson & Co. by calling 410-788-4200 or visit JKEHardwoodFlooring.com today!
J. K. Eareckson & Co. is Baltimore's Premier Hardwood Floor Installer & Refinisher
You can also follow us on Facebook and Twitter!