Over the past several years, there has been a great debate raging in the flooring community. What type of flooring is better, laminate flooring or hardwood flooring? Well, the debate is over. A winner has been crowned. Hardwood Flooring! While laminate flooring does have several great qualities, it simply cannot compare to hardwood.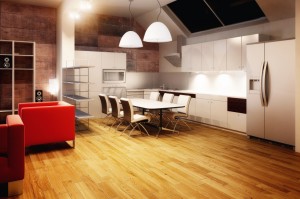 Benefits of Hardwood Flooring
Aesthetic Appeal: Just face it; nothing looks better than hardwood flooring. It is that simple. Each hardwood floor is unique, with differing grain patterns and textures. Each laminate floor is the same, with the same photographic reproduction. And the true beauty of hardwood cannot be reproduced in a photo.
Longer Lifespan: Laminate floors have a lifespan of 10-25 years. Hardwood floors, on the other hand, can last a lifetime (with proper maintenance and repair). The trick with a hardwood floor is to be proactive and avoid potential damage. If you care for your hardwood flooring, it will be around for as long as you are.
Wide Varieties: When it comes to hardwood flooring, the possibilities are nearly endless. And while laminate comes in several varieties, it simply cannot match hardwood.
Sustainability: Laminate flooring is made using paper and fiberboard enhanced with resins and melamine made from chemical compounds. And while the fiberboard may come from recycled materials, the end product is not recyclable. Hardwood flooring is obviously the environmentally-friendly choice.
Home Value: Realtors have reported that homes with hardwood floors typically spend less time on the market than those without.
So are you ready for a new hardwood floor?
If you have any questions, please contact John K. Eareckson & Co. by calling 410-788-4200 or visit JKEHardwoodFlooring.com today!
John K. Eareckson & Co. is a premier installer and refinisher of hardwood floors in the Baltimore / DC metro region. If new floors are your dream, we can make those dreams come true…for less than you might imagine. Jno. K. Eareckson & Co. will provide the best quality, craftsmanship, and customer service around.
"After all, you are walking on our reputation."