You have made the choice to have a new hardwood floor installed in your home. Unfortunately, your work is still not done. Now you have to choose between solid hardwood flooring or engineered wood flooring. What's the difference? Let's take a look!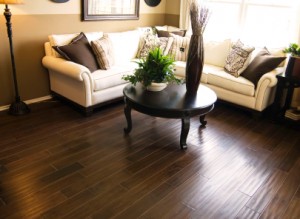 Solid Hardwood Floors vs. Engineered Wood Flooring
Engineered Wood Flooring: Engineered wood flooring is a multi-layer flooring, placing a 1/16" to 1/8" piece of solid finished wood on top of unfinished plywood. While engineered wood flooring looks similar to solid hardwood, the comparisons end there!
Solid Hardwood Flooring: There is just no beating solid hardwood flooring! Solid hardwood flooring is just that…SOLID. It can be sanded and refinished repeatedly, unlike engineered wood flooring, which can only be sanded 1-3 times.
So if new floors are your dream, J. K. Eareckson & Co. can make those dreams come true…for less than you might imagine.
J. K. Eareckson: Your Baltimore Hardwood Floor Installer
When installing your brand new hardwood floor, the flooring experts at John K. Eareckson & Co. will provide the best quality and craftsmanship around. We take pride in our work, something that is evident by our numerous satisfied customers, who have made J. K. Eareckson the oldest flooring business in the Baltimore, Maryland area. But don't take our word for it…
"Thanks for the lovely floors. A job well done. We'll certainly keep you in mind for friends and others interested in your type of work." – The Millers, Baltimore MD.
If you have any questions about Solid vs. Engineered Wood Flooring, please contact John K. Eareckson & Co. by calling 410-788-4200 or visitJKEHardwoodFlooring.com today for a free quote regarding any of your hardwood flooring needs.
J. K. Eareckson & Co. is Baltimore's Premier Hardwood Floor Installer & Refinisher