Are you preparing to install hardwood floors in your home and are wondering what the biggest trends in flooring are? JKE Hardwood Flooring is here to help by breaking down some of the year's hottest hardwood styles. Keep your home looking unique and on-trend with the following hardwood flooring designs:
Different color extremes
Two of the top flooring trends seem to contradict each other, but you can't go wrong with either option. On one end of the spectrum, dark wood, such as wood that would come from oak or cherry trees, is extremely popular. This color wood is best for a large room, as a dark floor in a smaller room can make it seem even smaller. On the other end, we have the lighter colored lime-washed hardwood. Lime-washed hardwood is treated with a solution that essentially bleaches the wood, not quite making it white but still providing an interesting, light finish.
What's old is new
This saying applies to two different flooring trends. One is the trend of vintage and distressed flooring. Ordinarily, you wouldn't think of installing floors that already look as though they've been well-lived on, but the distressed trend is a big one this year. The other way to make the old new? Recycled wood. Hardwood is one of the greenest flooring types because you can reuse it for different purposes, and that is exactly what you should do when choosing "new" hardwood floors.
Matte finish
Instead of the highly polished, glossy look, consider a hardwood floor stain that will end up looking more matte. This allows the texture and grain of the wood to stand out and become the focus, rather than shine, and it is also a more practical finish. Matte floors do not show scratches, dust, or other imperfections as easily.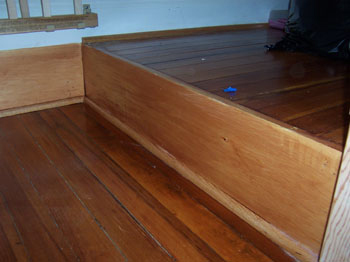 No matter what style you choose, JKE Hardwood Flooring can help you design and install a hardwood floor layout that is right for you.
John K. Eareckson & Co. has been serving the Baltimore and Washington, DC area since 1917 – meaning we have nearly 100 years of experience – but we always know the finishes and flooring styles that are on trend and in style. Looking to update your hardwood floors? Contact John K. Eareckson & Co. by calling 410-788-4200 or visit JKEHardwoodFlooring.com today for a free quote regarding any of your hardwood flooring needs.
J. K. Eareckson & Co. is Baltimore's Premier Hardwood Floor Installer & Refinisher
You can also follow us on Facebook and Twitter!
Sources:
Top 10 Hardwood Flooring Trends