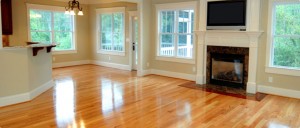 Watch any episode of House Hunters on HGTV and you will quickly learn one of the most desirable assets of a new home is a hardwood floor. Because they can last hundreds of years with regular maintenance, hardwood floors are an incredible investment for your home. However, whether your home is old or new, on the market or just purchased, maintaining a hardwood floor can require some upkeep. One of the best things you can do for your floors to keep them looking shiny and new is to consider refinishing them.
Of course, there are several layers in between: your floors might only need a recoating rather than a full refinishing depending on how worn, scuffed, scratched, and dull your floors are. If the floor's finish is worn or damaged and shows evidence of major wear and tear or it has deep scratches, gaps in the floor, or buckling all the way from the finish down to the wood, a wood floor refinishing is the best option for your floors.
One significant benefit to refinishing floors is enhancing the longevity of your floors. Replacing wood floors can be costly, time consuming, and may still require refinishing or recoating due to normal wear and tear. Refinishing your floors every two years or so can go a long way to keeping your floors beautiful and your house feeling fresh and new. Another benefit is your home's prospective value should you decide to sell it. Beautiful, refinished hardwood floors are attractive to potential buyers and can help drive the value of your home up.
There are several steps to the process of refinishing hardwood floors: first, we sand off the old finish down to the bare wood floor and make it surface level. If you want to change the color of the wood or repair cracks, remove stains, or correct minor imperfections in the wood, this is when we can do it. Once we finish those steps, we can add a protective sealant to maintain the quality and look of the wood. We have several options that you can use for the sealant: polyurethane or varnish can give wood floors a darker and glossy look, while penetrating sealer can present a natural-looking finish that brings out the wood's grain.
Refinishing your floors is a simple, easy process and it can help your hardwood floors maintain their longevity for hundreds of years into the future. It's an investment that is sure to bring returns and JKE can help you through the process. If you have any questions about refinishing your hardwood floors, please contact John K. Eareckson & Co. by calling 410-788-4200 or visit JKEHardwoodFlooring.com today for a free quote regarding any of your hardwood flooring needs.
Source: http://www.carsonshardwoodfloors.com/hardwood-flooring-tips/hardwood-floor-refinishing/