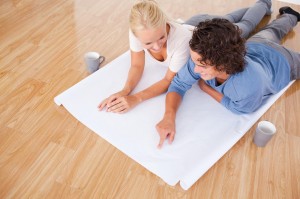 Pinterest is your new best friend when it comes to decorating your home. But if you already have photographs hung, mirrors suspended, and walls painted, it is difficult to figure out how to freshen up your home's look and feel. A solution is to replace your hardwood floors. There are a few elements to keep in mind when choosing the best kind of hardwood floors for your home.
Balance your colors.
Dark, rich hardwood flooring creates a cozy, warm ambience. This type of flooring design is paired well with light wood or white furniture. Light wood furniture will provide contrast to the dark floor, but furniture with dark wood legs will also complement the atmosphere. Either would be decent options. Try putting a dark colored rug on the floor to match the elegant air of the room.
Light hardwood flooring gives a room an airy, modern feel. Leonardo da Vinci once said, "Simplicity is the ultimate sophistication." If you have rooms with flowery or beach décor, light hardwood flooring would be a good choice. Wide, light wood planks are the latest trend and work well in large rooms with windows. Lesser size wood would be used in smaller areas.
Take surfaces and finishes into consideration.
Each piece of wood has various lines and graining that determines the feel of a room. The finer the graining is, such as with dark hardwood flooring, the more sophisticated the look will be. If the wood flooring has more texture, the room will look more casual and friendly. We would recommend having fine grained wood in the dining room and wood with dynamic graining in the family room. Hand-scraped woods with the dynamic graining are welcoming and do not show damage as easily because the wood is meant to look textured. Smooth, glossy dark wood flooring is best to have in "special occasion" rooms as it looks more formal.
Match your hardwood flooring with your furniture.
If you are re-doing the kitchen floors, choose dark hardwood flooring if you have white cabinets or bronze metals. It balances light and dark and provides a chic feel to the kitchen. If you have dark cabinets, go with a lighter oak floor to contrast the dark colors. Light oak has yellow and orange undertones, so choose decorations for the walls and counters that have purple or blue. It will create a vivid contrast and make the wood come to life.
John K. Eareckson & Co.: Baltimore Custom Hardwood Flooring
At John K. Eareckson & Co., we pride ourselves on providing the best quality and craftsmanship in the Baltimore-Washington area, from custom hardwood installation and repairs to refinishing. So if you are interested in a new look to your hardwood flooring, pick up the phone and give us a call today!
If you have any questions about New Hardwood Floors, please contact John K. Eareckson & Co. by calling 410-788-4200 or visit JKEHardwoodFlooring.com today for a free quote regarding any of your hardwood flooring needs.
You can also follow us on Facebook, Google+, and Twitter!