Maybe you've invited all of your friends over for a summer evening cocktail party, and while you have plenty of glasses and hors d'oeuvres to go around, there's one thing you didn't prepare for: spills! Some liquids are easy to clean off of hardwood floor surfaces, but others, such as wine, can be a bit trickier to remove. Left untreated, wine could potentially stain your beautiful hardwood flooring! So what do you do? Act fast, and trust these tips from JKE Hardwood Flooring.
Once you've identified the spill, try to clean as much of it off of the wood before it has a chance to dry. Use a washcloth or a regular paper towel and place it over the spilled wine, letting the cloth absorb it rather than wiping it up, as that motion could actually rub the stain into the wood! If you were able to get to it fast enough, this might be all that you need to do, but more than likely the wine stain might have begun to set, in which case you'll need to use bleach. Pour bleach on the stained area and let it soak in so that it can fully remove the pigment from the wine. Be careful and use gloves when handling bleach! And remember, even though the bleach might end up damaging the gloss finish of your hardwood floors, you can refinish the floors later once the wine stain is removed.
Other alternatives to bleach are an oil-based soap mixed with hot water or, in severe situations, you can use a mild abrasive, such as a pumice stone. Keep in mind that most of these treatments, while they will remove the wine stain, could scratch or dull the surface of your hardwood floors, so call on the experts at JKE Hardwood Flooring to learn how to refinish the area of the wood that has been damaged.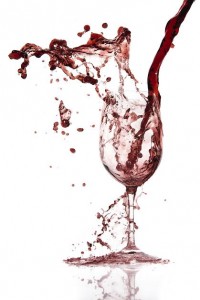 John K. Eareckson & Co.: Baltimore Custom Hardwood Flooring
At John K. Eareckson & Co., we pride ourselves on providing the best quality and craftsmanship in the Baltimore-Washington area, from custom hardwood installation and repairs to refinishing. So if you are interested in a new look to your hardwood flooring, pick up the phone and give us a call today!
If you have any questions about Refinished Hardwood Floors, please contact John K. Eareckson & Co. by calling 410-788-4200 or visit JKEHardwoodFlooring.com today for a free quote regarding any of your hardwood flooring needs.