Your new hardwood floor is beautiful. Its aesthetic appeal adds to the overall décor of your home. But in order to keep your hardwood flooring looking its best, you will have to properly clean and maintain those floors.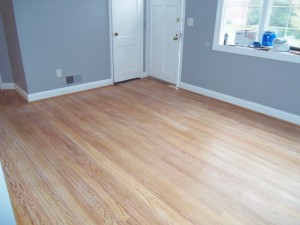 Cleaning & Maintenance Tips for Hardwood Floors
Dust and Debris: When left alone, dust, dirt, and debris can quickly damage hardwood floor finish. This is why it is important to sweep your hardwood floors at least every other day.
Spills: Liquid and hardwood floors do not mix. Because of this, it is important to address spills immediately after they happen. The longer a spill is left to sit, the more damage it will do to your hardwood floors.
Rugs: An area rug is more than a decoration. It can be the perfect way to protect hardwood flooring in high-traffic areas.
Cleaning Products: Make sure you purchase an appropriate cleaner for your hardwood floors. Read the product labels and confirm that the product is made for use on hardwood floors.
Polish: You need to wax and polish your wood floors at least three times a year to keep that luster.
Refinishing: Over time, even the best hardwood floor undergoes a lot of wear and tear. Rely on professional Hardwood Floor Re-finishing to restore your once beautiful flooring to its original glory
Jno K. Eareckson & Co.: Damage to your existing hardwood floors? No problem! The hardwood flooring experts at Jno K. Eareckson & Co. can handle all of your hardwood flooring needs.
If you have any questions, please contact John K. Eareckson & Co. by calling 410-788-4200 or visit JKEHardwoodFlooring.com today!
John K. Eareckson & Co. is a premier installer and refinisher of hardwood floors in the Baltimore / DC metro region. If new floors are your dream, we can make those dreams come true…for less than you might imagine. John. K. Eareckson & Co. will provide the best quality, craftsmanship, and customer service around.
"After all, you are walking on our reputation."
You can also follow us on Facebook and Twitter!