Your home should be an expression of who you are, from molding to baseboards. You might have a clear vision as to what color scheme you want to use, what furniture will fit best, and what artwork you want to hang on your walls, but have you given any thought to your flooring options? To really set your home apart and have it reflect your personality, a custom hardwood floor from JKE Hardwood Flooring may be just the thing.
A custom hardwood floor can add a minimalist polish to a room or provide an extra pop of pattern where you would least expect it. Consider the number of options you have when it comes to your hardwood floors; there are a variety of wood types, stain colors, and plank sizes to choose from. A custom hardwood floor can allow you to create from scratch the perfect floor for your home.
Perhaps your interior design plan is for a rustic and warm-toned country home. A custom floor with a matte finish and dark staining might go well with your other furnishings and set the right kind of mood. Or maybe your ultra-modern kitchen would be set off with a high-gloss maple floor. The choice is yours with a custom hardwood floor from JKE.
You aren't limited to just one wood either for your custom hardwood floor. JKE provide a catalog of designs including custom hardwood floors with medallions, inlaid borders, and patterns that will make something as simple as your home's floor really stand out. If you have your own vision for your home, forget the catalog and work with JKE designers to make your custom hardwood floor dream a reality.
You can create a home that expresses your tastes and preferences with the addition of a custom hardwood floor. Call JKE today to schedule your consultation.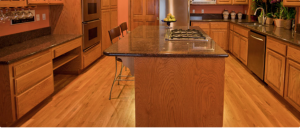 John K. Eareckson & Co.: Baltimore Custom Hardwood Flooring
At John K. Eareckson & Co., we pride ourselves on providing the best quality and craftsmanship in the Baltimore-Washington area, from custom hardwood installation and repairs to refinishing. So if you are interested in a new look to your hardwood flooring, pick up the phone and give us a call today!
If you have any questions about Refinished Hardwood Floors, please contact John K. Eareckson & Co. by calling 410-788-4200 or visit JKEHardwoodFlooring.com today for a free quote regarding any of your hardwood flooring needs.