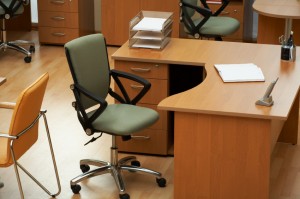 Your office can't be plain. It needs to have a certain wow factor. After all, you only get one chance to make a good first impression with your potential clients.
"Psychologists, writers and seminar leaders caution that you only have seven to 17 seconds of interacting with strangers before they form an opinion of you," said David Saxby, president of Measure-X, a company that specializes in helping utilities improve their customer service and sales.
That means a person's first impression of you and your business is primarily based on physical attributes. So what is your office flooring saying about your business? Don't let your dingy, old office floor give your clients the wring first impression
Office Flooring
Carpeted Floors: Carpet is one of the most popular flooring options around for both residential and commercial use. However, remember that carpet requires a lot of maintenance.  Dirt, dust, pollen, and other debris can easily build up in your carpets if not properly maintained.  
Laminate Floors: Laminate flooring is a cost-effective and aesthetically appealing office flooring option. These floors are easy to maintain and come in a wide variety of styles.
Custom Hardwood Floors: If you want a timeless, classy look that is sure to please, then custom hardwood floors are the way to go. Like laminate flooring, hardwood floors are easy to maintain and come in a wide variety of styles. Unlike laminate, however, hardwood can be refinished, giving your old wood floor a fresh new start!
John K. Eareckson & Co: Laminate & Custom Hardwood Floors in Washington DC
At John K. Eareckson & Co., we pride ourselves on providing the best quality and craftsmanship in the Baltimore-Washington area, from hardwood installation and repairs to refinishing. So if you have your heart set on new hardwood or laminate floors for your office, John K. Eareckson & Co. is the company for you!
If you have any questions about Custom Hardwood Floors, please contact John K. Eareckson & Co. by calling 410-788-4200 or visit JKEHardwoodFlooring.com today for a free quote regarding any of your hardwood flooring needs.