Choosing a hardwood floor for your Baltimore home is choosing flooring that will last for many, many years. There are many different types of hardwood floors to consider, such as:
Unfinished solid hardwood – low-cost non-varnished rough boards that have to be nailed to a wood subfloor. A wide variety of species, grades and widths are usually available for this type of hardwood.
Prefinished solid hardwood – these hardwood floors are ready-to-install and the finish is factory-applied in an ideal, controlled environment.
Prefinished engineered hardwood –  These floors are old as boards made up of a hardwood surface (called the wear layer), that are glued onto a plywood base. The boards can be glued directly onto concrete, an acoustic underlay, or even a subfloor with a floor heating system.
Even within those categories, there is variety. Different species of wood have their own grain, color and venting. The most popular hardwood floor species are oak and maple, followed by birch, ash, beech, cherry and walnut. There are also exotic species of woods such as mahogany and tigerwood. The choice is up to you which species of wood you use, as each has a distinct character that may fit your style and the style of your Baltimore home.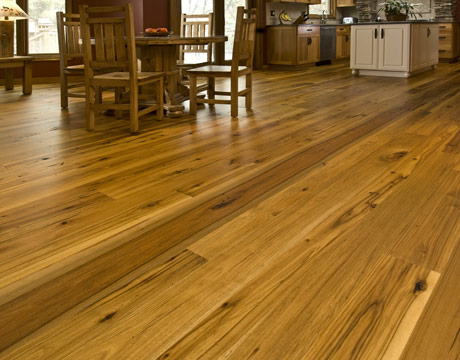 There are many different glosses for hardwood floors as well. High gloss is a very bright and smooth finish that will highlight dirt and scratches. Semi-gloss is the standard hardwood floor gloss as far as prefinished hardwood floors. Low gloss is a new popular option for hardwood floors as it does not show knicks and scratches as easily as the other glosses do. This keeps your Baltimore hardwood floor looking better for longer.
Maintenance is easy as long as you stay away from water, soap and sand when cleaning your hardwood floor. The only required cleaning materials are a damp cloth and possibly a vacuum to get rid of all of the dust that can accumulate on a hardwood floor. Hardwood floors are made out of living material, so keeping the humidity down in your house is a surefire way to take great care of your Baltimore hardwood floor. A humidity level of 39% is ideal for hardwood flooring.
All in all, buying a Baltimore hardwood floor is getting a flooring option that is durable, eco friendly, affordable and very easy to maintain. You'll be doing yourself and your home a favor by installing some fantastic Baltimore hardwood floors. So knock on wood and hope you can take advantage of JKE's hardwood flooring options!
John K. Eareckson & Co. is Your Baltimore Hardwood Floor Company
At John K. Eareckson & Co., we pride ourselves on providing the best quality and craftsmanship in the Baltimore-Washington area, from custom hardwood installation, repairs, and refinishing. Let us help you enjoy the spring time a little more.
If you have any questions about Hardwood Floors, please contact John K. Eareckson & Co. by calling 410-788-4200 or visit JKEHardwoodFlooring.com today for a free quote regarding any of your hardwood flooring needs. You can also follow us on Facebook, Google+, and Twitter!
Source: Hard Facts on Hardwood Floors, Currents Magazine