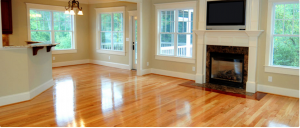 Are your hardwood floors looking pretty banged up? It might be time to refinish your hardwood floors. There are many great benefits you can reap from hardwood floor refinishing and it could be a better decision than replacing your hardwood floors. Here's why:
Hardwood floor refinishing is more inexpensive than replacing your hardwood floors altogether.
You can increase your home value by having a hardwood floor refinished because refinished hardwood floors are highly attractive to homebuyers. In other words, you can market your home at a higher price than a home without refinished flooring.
You will know a hardwood floor refinishing is the best choice for your home when you see that your hardwood floor is worn out or has visible damage such a deep scratches, large floor gaps and floor buckling.
When a professional comes to your home to refinish your hardwood floor, you will see the floor contractor perform sanding to remove your old finish while leveling the hardwood surface. From there, you can have your hardwood floor color of choice selected and request that the floor contractor repair any cracks and imperfections in your flooring. You can also have stains removed from your wood.
John K. Eareckson Hardwood Flooring is here to eliminate dents, scratches, and scuffs from your hardwood flooring so you can be proud of your refinished flooring, while saving money and time. Take a look at our our gallery of hardwood floor installation and refinishing to see what we can do for you.
John K. Eareckson & Co.: Baltimore Custom Hardwood Flooring
At John K. Eareckson & Co., we pride ourselves on providing the best quality and craftsmanship in the Baltimore-Washington area, from custom hardwood installation and repairs to refinishing. So if you are interested in a new, custom hardwood floor, pick up the phone and give us a call today!
If you have any questions about Refinished Hardwood Floors, please contact John K. Eareckson & Co. by calling 410-788-4200 or visit JKEHardwoodFlooring.com today for a free quote regarding any of your hardwood flooring needs.
You can also follow us on Facebook, Google+, and Twitter!
Source:
http://www.carsonshardwoodfloors.com/hardwood-flooring-tips/hardwood-floor-refinishing/
http://www.slideshare.net/fergieferriols/the-benefits-of-hardwood-floor-refinishing