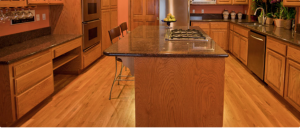 Are you a homeowner that has rough looking hardwood floors throughout your home interior? There are ways to patch up damaged hardwood floors. Hardwood floor damage range from the dog roughing up your cherished flooring to children marking up your floors with toys and art utensils. Scratches and stains are markings that just can down right reduce the appeal of your wood flooring, but you can fix by hiring a professional that specializes in Hardwood floor repairs. You don't have to accept the battle scars of your wood flooring.
Hardwood floor specialists like John K. Eareckson Hardwood Floors have a reputable portfolio of high quality hardwood floor repairs. How can hardwood floor specialists work miracles? The answer comes with using a high quality polyurethane seal for wood floors to protect your flooring from reoccurring scuffs created by pets, children and the repositioning of furniture.
Here are some Hardwood repair solutions you can try to beautify your hardwood floors:
Use a quality wood finish stain marker to hide surface scratches.
Have your wood floors professionally sanded and stained so your wood boards are matching.
For urine discoloration by pets, wood boards will be replaced.
Light scratches can be removed from hardwood by rubbing steel wool over the scratches.
Sanding is most effective for deep scratches, but it be sand along the grain of your wood for the best results.
For the best hardwood floor repair results, leave the repairs to a Hardwood floor expert. John K. Eareckson is here to revive your hardwood floors today. Have a look at our Hardwood Floor Repair picture gallery to get an idea what we can do for your hardwood floors. We won't disappoint you! We understand how important it is to have quality hardwood flooring for the home! Let's start repairing your hardwood floors today.
John K. Eareckson & Co.: Baltimore Custom Hardwood Flooring
At John K. Eareckson & Co., we pride ourselves on providing the best quality and craftsmanship in the Baltimore-Washington area, from custom hardwood installation and repairs to refinishing. So if you are interested in a new, custom hardwood floor, pick up the phone and give us a call today!
If you have any questions about Refinished Hardwood Floors, please contact John K. Eareckson & Co. by calling 410-788-4200 or visit JKEHardwoodFlooring.com today for a free quote regarding any of your hardwood flooring needs.
You can also follow us on Facebook, Google+, and Twitter!
Source:
http://www.thisoldhouse.com/toh/article/0,,20686304,00.html
http://www.dummies.com/how-to/content/how-to-fix-scratches-in-hardwood-floors.html