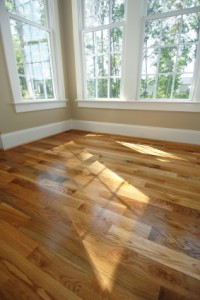 If you are undergoing a home restoration project, it's a good idea to give the home flooring a new look. One way you can do it is through refinishing the wood floors. Refinished wood floors have a way of giving an old how a clean and polished look. As you may know, old homes have been through the grape vines and scratched hardwood floors are common.
Refinishing a wood floor is a moderately difficult project and it's recommended that you hire a professional floor contractor to complete the project.
In some cases, it is not necessary to sand down the wood floors to remove scratches because the scratches don't go completely through the wood floors. Under this circumstance, a buffer scuff sand of your wood flooring can get the job done. Once buffed, you will only need a coat of finish applied to your wood flooring.
When wood floors look good in a home,  it helps making a residential property feel more welcoming and warm. Overtime hardwood floors experience a great deal of wear and tear, and hardwood floor refinishing can make an old home feel brand new again.
John K. Eareckson & Co. Hardwood Floors can provide you high quality hardwood floor repairs and refinishing to give your hardwood floors a well polished look. You can count on us to fulfill your home improvement project needs when you need to repair, replace or refinished your wood floors.
Take a look at  our Project Gallery of Hardwood Floors, to see what we can do for your old home.  We are a reputable premier installer and refinisher of hardwood floors. You can read up on our full Hardwood flooring services for more information. We are here to serve your needs and find ways to keep money in your pocket.
John K. Eareckson & Co.: Baltimore Custom Hardwood Flooring
At John K. Eareckson & Co., we pride ourselves on providing the best quality and craftsmanship in the Baltimore-Washington area, from custom hardwood installation and repairs to refinishing. So if you are interested in a new, custom hardwood floor, pick up the phone and give us a call today!
If you have any questions about Refinished Hardwood Floors, please contact John K. Eareckson & Co. by calling 410-788-4200 or visit JKEHardwoodFlooring.com today for a free quote regarding any of your hardwood flooring needs.
Source:
http://www.thisoldhouse.com/toh/how-to/intro/0,,20333774,00.html
http://voices.yahoo.com/hardwood-floor-repair-fix-refurbish-damaged-1599771.html?cat=6