If you're planning on installing hardwood flooring to finish your basement, or you've already taken the plunge and are enjoy the sophistication and style of one of the world's most tasteful flooring materials, there are a few things you should keep in mind as part of proper wood floor maintenance. Like any other improvement you make to your home, hardwood flooring is an investment, and no investment should be left unprotected.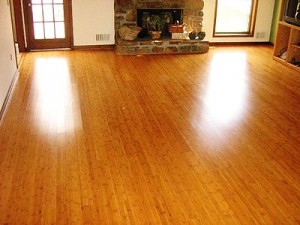 Humidity Protection
First and foremost should be keeping those floors safe from moisture damage. While it's easy to associate water damage exclusively with broken pipes, flooding, and spilled drinks, the fact of the matter is that most water damage comes in the form of humidity changes in your home. During the summer months be sure that the house is kept air-conditioned at a reasonable level and that humidity is minimized, preventing planks from swelling together and causing permanent damage. Conversely, during the winter it's important to make sure that it doesn't get too dry, which can cause planks to split apart and splinter. Purchasing a humidifier can help particularly arid areas.
Be Aware
While some changes in the shape of hardwood is natural and unavoidable, be on the lookout for places where the floor seems to momentarily dip. This phenomenon is called cupping and can be a sign of humidity damage, a plumbing leak, or standing water. Investigate and expose the culprit before it spreads and replace any damaged boards to preserve your pristine basement.
Keep It Clean
Many assume that the solution to keeping those floors looking shiny is to regularly wax. While this is an option, many hardwood experts have started to suggest natural, olive-oil based cleaners instead. These will be gentler on your floor and lead to a longer life for the hardwood while minimizing your carbon footprint.
John K. Eareckson & Co.: Baltimore Custom Hardwood Flooring
If you have any questions on how to care for your hardwood flooring At John K. Eareckson & Co., we pride ourselves on providing the best quality and craftsmanship in the Baltimore-Washington area, from custom hardwood installation and repairs to refinishing. So if you are interested in a new look to your hardwood flooring, pick up the phone and give us a call today! If you have any questions about New Hardwood Floors, please contact John K. Eareckson & Co. by calling 410-788-4200 or visit JKEHardwoodFlooring.com today for a free quote regarding any of your hardwood flooring needs. You can also follow us on Facebook, Google+, and Twitter! Source: freshome