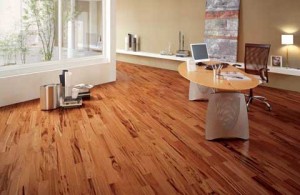 Are you moving in to a new office space, or are you thinking of remodeling your current one? One of the most important decisions you will have to make is choosing the foundation: the flooring! While there are many types of flooring to choose from, only one will boost your company profile, ensure a healthier office, and stand up to years of wear and tear: hardwood floors!
Hardwood floors give a professional touch to the office
When your clients first enter your office, what is the kind of impression you are aiming to give off? No one wants to present their company as shoddy, poorly-run, or out-of-date, but that is exactly the kind of impression certain types of flooring can make. Hardwood floors, on the other hand, look sleek, polished, and professional; your clients and customers are bound to be impressed by them the minute they step through the door!
Hardwood floors bring health benefits
The office can be an easy environment in which to pass germs. With so many people around, it may seem like a case of the sniffles is inevitable! But while some flooring, like carpet, traps dirt, germs, and allergens in it, hardwood floors are easy to clean, and therefore easy to keep free of all those irritants!
Hardwood floors are durable and long-lasting
The investment you make in your office space is one that you want to be able to get a lot out of for years to come. By selecting hardwood floors, which are durable and able to withstand wear and tear, you ensure that your office will have quality flooring it can count on. Even if it does start to show signs of age, your floor can be refinished by professionals who will have it looking like new again!
John K. Eareckson & Co.: Baltimore Custom Hardwood Flooring
At John K. Eareckson & Co., we pride ourselves on providing the best quality and craftsmanship in the Baltimore-Washington area, from custom hardwood installation and repairs to refinishing. So if you are interested in a new look to your hardwood flooring, pick up the phone and give us a call today!
If you have any questions about New Hardwood Floors, please contact John K. Eareckson & Co. by calling 410-788-4200 or visit JKEHardwoodFlooring.com today for a free quote regarding any of your hardwood flooring needs.
You can also follow us on Facebook, Google+, and Twitter!