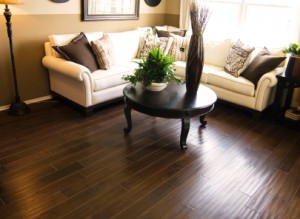 Hardwood flooring is often described as timeless and classic, but with more hardwood options than ever before, you can make your flooring look very unique. This year is ripe with brand new trends that turn your hardwood floor into a major design element. No matter what your style is, you might find just the right look to bring your décor together. Though its only two months into the year 2015, some interesting hardwood flooring trends are emerging.
Colors
One of the more recent ways in which people are making hardwood flooring their own, is by choosing non-traditional colors. Gray seems to be the hot new color for many residential flooring projects. The neutral hue is incredibly versatile and is perfect for updating a classic choice like hardwood, to a more stylish and modern look. You get all of the elegance and ease of hardwood, with a twist.
Another popular color-related trend is choosing bold, dark colored wood for your flooring. With an intensely rich shade, you're sure to make a statement. Many people pair dark hardwood with very lightly colored décor. This choice adds some serious sleek style to any home.
On the flip side, white washed floors are making a comeback. Very light floors play on the same contrast as dark floors. Paired with darker furniture, cabinetry, and accessories, very light floors can make your home look effortlessly sophisticated.
Other trends
Distressed floors are becoming increasingly popular this year. If changing up the color of your hardwood isn't up your alley, work with the texture. Different techniques are used to basically remove the outer layer of the wood and highlight the unique grain of each board.
Wide planks are another interesting way to set your hardwood floor apart from every other home on the block. This developing style suits any type of home design and has the benefit of making any space feel larger. Wider planks also do a great job of showcasing the natural grain and beauty of any species.
Matte finishes are becoming more and more common choices for hardwood flooring. Though high-gloss finishes still reign supreme, matte finishes don't show scratches so easily, and make your house feel extra homey.
John K. Eareckson & Co.: Baltimore Custom Hardwood Flooring
At John K. Eareckson & Co., we pride ourselves on providing the best quality and craftsmanship in the Baltimore-Washington area, from custom hardwood installation and repairs to refinishing. So if you are interested in a new look to your hardwood flooring, pick up the phone and give us a call today!
If you have any questions about New Hardwood Floors, please contact John K. Eareckson & Co. by calling 410-788-4200 or visit JKEHardwoodFlooring.com today for a free quote regarding any of your hardwood flooring needs.