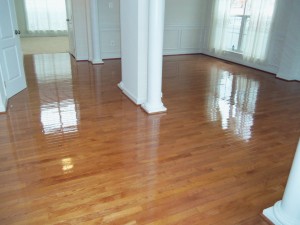 Maintaining a hardwood floor can be a deal breaker for some homeowners. While hardwood flooring is incredibly beautiful, it does require regular maintenance and repairs. Hardwood floors scratch, fade, dent, and stain. And if you fall behind on your maintenance and repairs, these imperfections can worsen quickly.
So what do you do if you want the look of hardwood without the hassle?
The Answer: Laminate Flooring!
Because it is machine made and its top layer is a hardwood photographic laminated surface, laminate flooring has the look of real hardwood floors, but without all of the maintenance. However, choosing a laminate floor is not as easy as you may think.
Choosing the Perfect Laminate Floor
How long will you be in the Home? If you plan on moving a few years down the road, why spring for more expensive laminate flooring with an extended warranty?
How much Foot Traffic will there be? Cheaper laminate floors wear down quickly (3-5 years) in high traffic areas. Remember, you get what you pay for.
Where will the Flooring go? Laminate flooring comes with different cores. So the placement of your laminate flooring plays a major role in determining the core to purchase. A thicker core is more stable, less vulnerable and sounds more like the real hardwood floor when walked on. Better yet, high quality cores are also treated with water repellent chemicals.
John K. Eareckson & Co: Baltimore's choice for Laminate Floors
When installing your brand new laminate floor, the flooring experts at John K. Eareckson & Co. will provide the best quality and craftsmanship around. We take pride in our work,
If you have any questions about Laminate Flooring, please contact John K. Eareckson & Co. by calling 410-788-4200 or visit JKEHardwoodFlooring.com today for a free quote regarding any of your hardwood flooring needs.
Our satisfied customers have made J.K. Eareckson the oldest flooring business in the area!