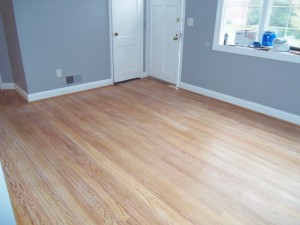 If you are looking for a great way to add a little elegance to your home, then hardwood flooring is definitely the way to go. And with so many options (more than you probably realize), you are sure to find a hardwood floor to match any décor.
Hardwood Flooring Color Options
Black Hardwood Flooring: Dark hardwood flooring can give your home a dramatic look, providing contrast when paired with white furnishing. Black hardwood options include: Wenge or American Black Walnut.
Yellow Hardwood Flooring: Yellow hardwood flooring gives your home a light, cheering feeling, brightening any room. Yellow hardwood floor options include: as Ash or Iroko.
Red Hardwood Flooring: Red hardwood flooring gives your home a warm and cozy feeling. Red hardwood floor options include: Mahogany, Padouk and Jatoba.
Hardwood Flooring with hints of Purple: These hardwood floors evoke feelings of luxury. Purple hardwood floor option include: Purple Heart.
Brown Hardwood Flooring: A great option for any room, brown hardwood flooring gives your home an ageless, sophisticated look. Brown hardwood floor options include: American Black Cherry, Afromosia, Oak and Burmese Teak.
White Hardwood Flooring: Providing a very modern look and feel, white hardwood flooring is a very calming choice for your home. White hardwood floor options include: Canadian Maple.
J. K. Eareckson & Co. is Baltimore's Premier Hardwood Floor Installer & Refinisher
We take pride in our work, providing the best quality and craftsmanship in the Baltimore – Washington area. But don't just take our word for it…
"JK EARECKSON &CO. came right away, showed me color samples and gave me an estimate. The next day they arrived promptly, and had the floor installed perfectly before noon. Very pleasant, hardworking crew did very precise work. Cleaned up and everything was back in order by mid-afternoon. Wow." – Marion F.
"Thanks for the lovely floors. A job well done. We'll certainly keep you in mind for friends and others interested in your type of work." – The Millers
Our satisfied customers have made J.K. Eareckson the oldest flooring business in the area!
If you have any questions about Wood Flooring, please contact John K. Eareckson & Co. by calling 410-788-4200 or visit JKEHardwoodFlooring.com today for a free quote regarding any of your hardwood flooring needs.