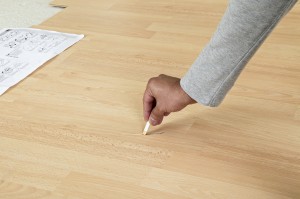 Do you find your children scribbling with markers and crayons on your hardwood floors? It's a very common and horrifying occurrence for parents. How on earth do you tend to remove crayon marks and other markings from your children? Many parents want to know the answer and we are here to share great tips for removing crayon marks and markers off your hardwood floors.
As you may already know, it's very difficult to remove crayon marks once the markings have settle into the hardwood floor. The best outcomes come from immediate stain removal to prevent the crayon marks from going deep into your hardwood flooring.
Cleaning solutions used by professional hardwood contractors like JKE Hardwood Floors can help fade away crayon marks. If you find that your wood finish is a mess from the crayon marks, you can have your hardwood floors professionally refinished to restore the beauty of your hardwood floors.
A proper wood refinish is crucial to restoring your woods. Do not leave this task to an amateur. You want to hire a hardwood refinishing company that has experience removing hardwood floors for not only fresh marks but also crayon marks that have settled into hardwood floors.
To put it simple, JKE Hardwood Floors can make your crayon mark problems be gone. We are here to keep your hardwood floors well polished. We are truly the go-to hardwood company for crayon removal so you can forget about rubbing crayon marks out of your floors. We have you covered.
Have a look at our Project Gallery of Hardwood Floors, to see how we can remove marks from your hardwood floors.  We are a reputable premier installer and refinisher of hardwood floors. You can read up on our complete Hardwood flooring services for more details. We are here to serve your hardwood floor maintenance needs and find ways to save you money and time on food maintenance.