It's the age old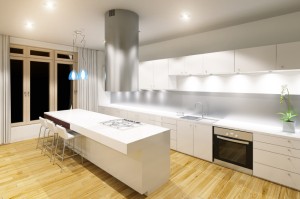 debate: Carpeting vs. Hardwood Flooring. Well, we believe there is a clear winner…hardwood floors! It doesn't matter if you are looking for new flooring for your home or business, hardwood floors just offer more benefits than carpet!
The Many Benefits of Hardwood Floors
Elegant Look: Nothing says elegance or professionalism quite like a hardwood floor.
Easy to Clean: Spill something on your carpet and it is a huge hassle. Spill something on your hardwood floor and it is a quick and easy cleaning process. Plus, hardwood floors do not accumulate a lot of dirt, dust, and debris.
Durability: Hardwood flooring is incredibly durable and built to last. Even if your hardwood floor does get damaged, you can have it refinished and looking like new in no time!
Low Maintenance: For many of the reasons we listed about, hardwood floors are very low maintenance. But they are not no maintenance. If you want your floors to last, you need to clean and maintain them regularly.
Property Value: Unlike carpeting, hardwood floors will actually increase your property value.
Wide Variety: There are so many different types of hardwood flooring that it is almost impossible to list them all, so we won't even try.
Indoor Air Quality: Because they do not harbor allergens, like carpeting, hardwood floors can quickly improve the indoor air quality of your home.
And so much more!
John K. Eareckson & Co: Baltimore's choice for Hardwood Floors
At John K. Eareckson & Co., we pride ourselves on providing the best quality and craftsmanship in the Baltimore-Washington area, from hardwood installation and repairs to refinishing.
"After all, you are walking on our reputation."
If you have any questions about Hardwood Floors, please contact John K. Eareckson & Co. by calling 410-788-4200 or visit JKEHardwoodFlooring.com today for a free quote regarding any of your hardwood flooring needs.
Our satisfied customers have made J.K. Eareckson the oldest flooring business in the area!