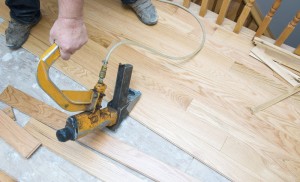 Once you decide on the right flooring option for your home, your job is far from over. You'll set a date for installation, and when that day arrives there are several things you should already have prepared to help the workers get the job done quickly and without hassle. The list of ways you need to prepare your home is long and varies depending on the company you work with, but a few things are fairly standard. When you create a plan ahead of time, you ensure that your hardwood flooring installation will go off without a hitch.
Plan around your installation
You will have several installers walking in and out of your house, using sharp tools, and making a fair bit of noise. This can be pretty invasive and you need to make sure that you have found ways to accommodate your daily activities. If you are having hardwood installed in your kitchen, remember that you likely won't be able to cook, so expect to go out for lunch. Plan to have your children and pets away from the action. Consider taking your pup to a doggie daycare or having your little one stay at a friend's house.
Secure your belongings
Stow away any valuables and remove pictures and mirrors from your walls. There will be a good amount of noise, some vibration and a lot of heavy-duty work going on in your home. To make sure that everything in your home remains intact, be extra careful and anticipate breakage. This includes electronics and appliances. Designate all unnecessary items to a room where they can remain safe until things in your home calm down. Secure any light fixtures that you have hanging around and make sure all of your shelving units are moved.
Make your clean-up easier
Dust is a major problem you will have to deal with once your hardwood flooring installation is finished. Cutting and sanding lead to a hefty build-up of dust inside your home. You may want to hang plastic curtains to protect rooms that aren't being worked on, and cover counter tops and tables to protect them from the impending cloud of dust.
Communicate with your installation professionals
Different flooring companies are willing to do different amounts of work when it comes to doors, baseboards, and furniture. Find out what your company is willing to do ahead of time. A good rule of thumb is that you should move whatever you can out of the rooms being worked on. You know how you want your items stored. Clear as much out the rooms as possible and have your installers help you with the rest.
John K. Eareckson & Co.: Baltimore Custom Hardwood Flooring
At John K. Eareckson & Co., we pride ourselves on providing the best quality and craftsmanship in the Baltimore-Washington area, from custom hardwood installation and repairs to refinishing. So if you are interested in a new look to your hardwood flooring, pick up the phone and give us a call today!
If you have any questions about New Hardwood Floors, please contact John K. Eareckson & Co. by calling 410-788-4200 or visit JKEHardwoodFlooring.com today for a free quote regarding any of your hardwood flooring needs.
You can also follow us on Facebook, Google+, and Twitter!