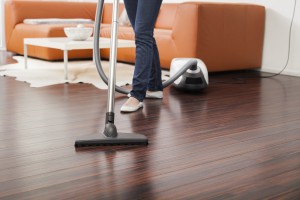 You've had gorgeous hardwood flooring installed in your home. So, to keep those wooden floors beautiful, it's crucial you know how to correctly maintain them. Part of the essential care and keeping of your hardwood floors is proper cleaning.
What Is The Best Way To Clean My Wood Floors?
Dust
Before doing anything else, you must first dust your hardwood floors. To avoid scratching the wood, be sure to utilize only the proper cleaning tools and techniques. A microfiber dusting pad edged with fringe will be perfect for collecting both dust and debris. Specifically, the padded center will collect the dust, and the fringed edges will collect the debris. If debris gets underneath the microfiber pad, it will scratch your beautiful wood flooring.
With this in mind, be conscious not to lift the microfiber pad when dusting the hardwood floors, so sharp debris is caught inside the fringe instead of beneath the pad. Starting at the baseboards, begin dusting. Then, run the microfiber over the rest of your hardwood floor. Once you've dusted the entire surface, clean up any remaining debris around the baseboards with the hose on your vacuum.
Mop
Having dusted your wood floor properly, you must now mop it. Spray—don't soak—the floor with either water or cleaner. Should you opt for cleaner, you need to ensure that it's designed for hardwood flooring. If it is not, the cleaner could cause damage to the wood flooring.
Use a fresh microfiber pad to mop, following the grain of the wood and misting the floor as needed. Again, be careful not to oversaturate the floor with water, as this will quickly result in warping.
Cautions
Vinegar and water, though a common household cleaning solution, is dangerous to hardwood flooring, as it will eat away at your floor's protective coating. When in doubt, simply use water.
Swiffer should not be used on hardwood flooring; debris will get caught under the pad and scratch the floor. As mentioned above, opt for a microfiber pad with fringe.
Following these guidelines will help you keep your hardwood floors as attractive and appealing as they were immediately after installation.
John K. Eareckson & Co.: Baltimore Custom Hardwood Flooring
At John K. Eareckson & Co., we pride ourselves on providing the best quality and craftsmanship in the Baltimore-Washington area, from custom hardwood installation and repairs to refinishing. So if you are interested in a new, custom hardwood floor, pick up the phone and give us a call today!
If you have any questions about Custom Hardwood Floors, please contact John K. Eareckson & Co. by calling 410-788-4200 or visit JKEHardwoodFlooring.com today for a free quote regarding any of your hardwood flooring needs.
You can also follow us on Facebook, Google+, and Twitter!
Sources:
http://www.signaturehardwoodfloors.com/blog/hardwood-floor-cleaning/a-method-for-cleaning-your-wood-floors/
http://www.apartmenttherapy.com/reader-tip-the-best-way-to-cle-60991