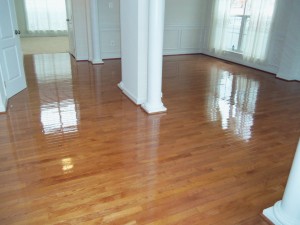 Hardwood is still the king of the flooring industry, offering several benefits over carpet. And with today's technology, you now have more choices than ever before, including Engineered Hardwood Floors, Laminate Floors, and, of course, Solid Hardwood Floors.
This week, we are going to focus on the third option, Solid Hardwood Floors.
Are you in the market for a solid hardwood floor for your Baltimore home or office? If so, you have come to the right place! At John K. Eareckson & Co., we pride ourselves on providing the best quality and craftsmanship in the Baltimore-Washington area, from hardwood installation and repairs to refinishing.
What are the Benefits of Solid Hardwood Flooring?
Aesthetic Appeal: Solid hardwood floors give your home an aesthetic appeal unmatched by other flooring options, like carpet.
Countless Choices: There are countless different types of hardwood floors, making it easy for you to find a style and a color to compliment your home.
Durability: Hardwood flooring is incredibly durable and built to last.
Long Lasting: Hardwood floors, while they will sustain damage, can be repairs or refinished.
Maintenance: It is a hassle to clean a stain from your carpet. The same is not true for hardwood floors.
Hypoallergenic: Unlike carpeting, hardwood floors do not harbor allergens.
Property Value: Solid hardwood floors will actually help boost your property value, unlike carpeting. Hardwood floors are also a great selling point!
Return on Investment (ROI): Hardwood floors are great investments, with an ROI ranging anywhere from 55-85%, depending on the type of flooring you choose.
If you have any questions about Custom Hardwood Floors, please contact John K. Eareckson & Co. by calling 410-788-4200 or visit JKEHardwoodFlooring.com today for a free quote regarding any of your hardwood flooring needs. You can also follow us on Facebook, Google+, and Twitter!