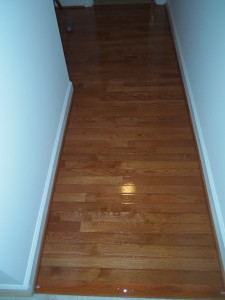 If new, custom hardwood floors are your dream, then John K. Eareckson & Co. is the company for you. We are Washington DC's choice for custom hardwood floors. Whether installing over a wood sub floor or concrete, the hardwood flooring professionals at John K. Eareckson & Co. provide the best quality and craftsmanship around…and for much cheaper than you probably think!
Our satisfied customers have made J.K. Eareckson the oldest flooring business in the area!
The benefits of custom hardwood flooring include:
Aesthetic Appeal: Custom hardwood floors add an elegance to your home unsurpassed by any other type of flooring!
Maintenance is Quick and Easy: Unlike carpets, custom hardwood floors are easy to clean. After all, there are no places for dirt, dust, and debris to hide.
The Illusion of Space: Custom hardwood floors give your room the illusion of added space, making even small rooms appear larger.
Allergen Free: Custom hardwood floors are the perfect choice for allergy sufferers. Unlike carpets, hardwood floors will not trap allergens.
Unsurpassed Durability: Even when custom hardwood floors start to show their age, some professional refinishing should return the floors' original luster.
Improved Home Value: Custom hardwood floors will also raise your property value!
If you have any questions about Custom Hardwood Floors, please contact John K. Eareckson & Co. by calling 410-788-4200 or visit JKEHardwoodFlooring.com today for a free quote regarding any of your hardwood flooring needs.