This week we are going to tackle an alternative to traditional hardwood flooring: Cork. It has that classic hardwood look that every homeowner wants, but cork offers something that traditional hardwood floors cannot…cushion.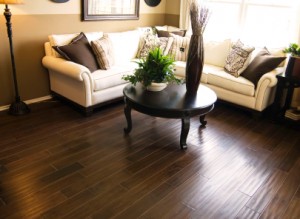 Other benefits of Cork Flooring include:
Natural Insulator: Cork flooring has natural insulation properties, making it not only aesthetically pleasing and comfortable, but also an incredibly energy efficient flooring option.
Green: Cork extraction process does not harm trees, making it a green flooring option.
Sound Dampening: Cork flooring has superior sound dampening characteristics.
Fire Resistant: Cork floors are naturally fire resistant.
Resistant to Mold: Suberin, a natural substance in cork, works as a mold inhibitor.
Resists Rot: Suberin also helps prevent cork flooring from rotting.
Allergy Safe: Cork has natural properties that are anti-allergenic and resistant to insects.
Easy Installation: Not only is cork flooring installation easy, but it can also be installed on uneven surfaces and over existing flooring, such as wood or linoleum.
Aesthetic Appeal: Cork's natural beauty is one of its best selling points. Plus, it comes in numerous different colors and tile shapes.
Hardwood Floors in and around Baltimore, Maryland
John K. Eareckson & Co. can turn your flooring dream into reality! We provide the best quality and craftsmanship around and we take pride in the entire experience, from consultation to installation. And we are only satisfied with the job when you are.
Satisfied customers have made Eareckson the oldest flooring business in the Baltimore-Washington DC area!
If you have any questions about Cork Flooring, please contact John K. Eareckson & Co. by calling 410-788-4200 or visit JKEHardwoodFlooring.com today!
J. K. Eareckson & Co. is Baltimore's Premier Hardwood Floor Installer & Refinisher